This server room environmental monitoring system is a low cost high performance device with the same onboard features as commercial devices costing hundreds of dollars more. In addition to a low cost platform we will provide low cost sensors for many important devices to insure your equipment stays safe and sound. Full instructions are available at sproutboard.com as well as several kits to create some very ...
Read more

›
I'm researching squeeze sensing as a mode of tactile interface. Here I will cover the process of developing a squeezeable sensor and the firmware/software concerns associated with interpreting the data from the sensor. This fulfills the "sensor project" for my class called Computational Principles in Media Arts taught in AME at ASU by Todd Ingalls and Hari Sundaram. First off, how do we sense "squeeze?" Peo ...
Read more

›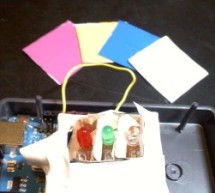 Here we will be learning how to make a color sensor. my model consists of three cardboard compartments containing an LED - one red, one blue, and one green - and an OP550B phototransistor. The LED's shine simultaneously on a solid colored card. The phototransistors are connected to an Arduino Uno, which converts the relative amounts of measured reflected light of each color into RGB components which are use ...
Read more

›
This is a PIR motion sensor device that works with the arduino uno. In order to make it covert enough to be placed in multiple settings and portable enough to fit most places, I decided to make the case for it appear as a speaker. The inspiration for this project: My cat is a jerk. One of his favorite things to do is to alarm me that he is hungry every morning at 4am by sitting on my dresser and knocking ra ...
Read more

›
Hello all! This is a quick guide on how to use an Arduino© to control whether a cooling fan and a heater is turned on depending on the detected temperature from a TC74 Arduino sensor. This is for a final project for an Electronics class I am currently taking, though I came into this project with pragmatism in mind, because of the hot summers and cold winters (ok, 60 degrees indoors is cold for me, but that' ...
Read more

›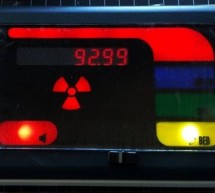 There are quite a few geiger counter instructables. The difference with this one is that I wanted to give it a modern interface, similar to smart phone touch screens, that anyone would feel comfortable using. The reason for this is that I want to use it as an educational tool to teach kids (and interested adults!) about radiation and how it is a natural part of the environment. Check out the video to see wh ...
Read more

›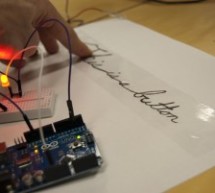 Did you know?  You can make pencil drawings reactive to touch for use with your projects!  It's really easy, and gives you a lot of flexibility in making interfaces for whatever microcontroller project you're making. I put this together as part of my UnoJoy project, where we're using the Arduino as a platform from which to explore how we interact with video games.  You can check out more of our projects for ...
Read more

›
The MQ-3 is an alcohol gas sensor that is available for about $5 from Sparkfun, Seeed Studio, and others. It's easy to use and has sparked the imagination of anyone who has dreamed of building their own breathalyzer device for measuring the amount of alcohol in the human body. I got an MQ-3 sensor a couple of months ago and have spent a lot of time trying to figure out how to do this. After lots of "data ga ...
Read more

›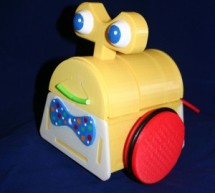 Tyree (he wears a tie and he has tires) actually smiles after he bumps into something (see video). Using an Arduino motor shield, he detects obstacles using the "more current into the motor means something is in the way" principle. Tyree started out as a sketch and morphed into a real object thanks to Autodesk's 123d software and a MakerBot Replicator 3d printer. Without the 3d tools, you can still learn ho ...
Read more

›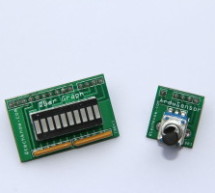 ArduSensors are open source plug-in-play sensors for Arduino.  These were originally made for beginners to get started with Arduino, a very cool electronics prototyping platform, but anyone can use them.  I still play around with them all of the time, and I bet a ton of people that are experienced with electronics still love them.  That's why ArduSensors fit the whole crowd.  ArduSensors fit directly into t ...
Read more

›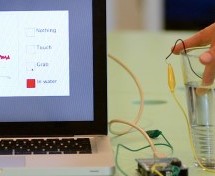 Update: New interface - look at the last step. Credits: Arduino sensing done by DZL, Processing sketch and Instructable done by Mads Hobye. Disney Research lab designed a novel way to detect touch. You can see a video of their demo here: I had the honor to meet them at CHI2012 in Texas and I discussed with them whether it would be possible to convert their system into the Arduino platform. Their immediate r ...
Read more

›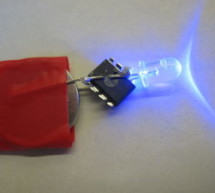 Throwies are great.  They have a minimal parts count - 2 or 3 depending on whether you use a magnet - and produce a great effect.  They are very cheap and easy but not highly efficient: 1)  They are on all the time, so on average they waste half of their energy shining during the day. 2)  A continuous light is not as visible as a flashing light. An interesting flash-pattern adds to the intrigue and can even ...
Read more

›