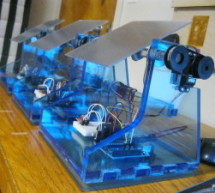 Introduction We aim to introduce young students to engineering and teach them about solar energy; by having them build a Helios as part of their curriculum. There is an effort in engineering to push energy generation away from the use of fossil fuels and towards greener alternatives. One option for greener energy is to use a device called a heliostat, which uses a mirror to direct the sun's light onto a tar ...
Read more

›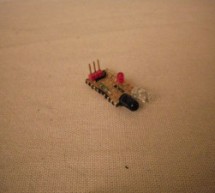 Have you ever wanted to make a line following robot but the infrared sensors were too expensive for you? Do you want to upgrade the robot in my other instructable? Well this instructable comes in two stages, Stage 1 is the prototyping stage, where you build the circuit on the bread board and debug it for design flaws. Stage 2 is fabrication where I'll teach you how to create a strip board product that you c ...
Read more

›
So, looking at these Kaoss pads and alike hardware, I found that there is hardly any point in this device being so expensive, when you just want to use it as MIDI controller. Going through my parts bin, I found a Synaptics touchpad from an old laptop and figured this should just work as a replacement. Ok, when I say 5$, i mean really cheap. Clearly a loose arduino is already 20-25 USD (but you can replace i ...
Read more

›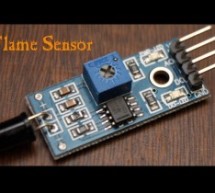 Quick and simple start guide for using and exploring the Flame Sensor module with an Arduino. The model in the example I am using is from Deal Extreme [DX] and can be found HERE. (The instructable for the Rain Sensor is now available!) Materials needed: Flame Sensor (model with an analog out) Male to Female jumper wires An Arduino, any flavor. Lighter or another flame source for testing. Step 1: Getting to ...
Read more

›
Recently I've been learning about Ultrasonic waves and how to harness their power. It's simple enough to make some type of sonar device, but I wanted to take at a step cooler and see if I could use Ultrasonic waves to not only detect movement, but also the direction of that movement. So let's take it to the ultimate level of awesomeness and use ultrasonic waves to make a motion controlled desk lamp. There's ...
Read more

›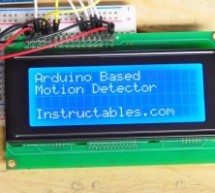 In this Instructable, I'll be explaining how to build a motion activated alarm! It uses an Arduino microcontroller, a PIR (passive infrared) sensor, and a type of alarm. You can use an LED indicator, a buzzer, or a piezo. That's the easy part. I will also be showing how to display to a character LCD screen, and over serial communication with a pair of XBee chips to relay the information to your computer! We ...
Read more

›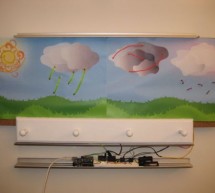 Has this ever happened to you? You wake up in the morning and realize that you're terribly late for work/class/your weekly pedicure/whatever. You throw on a t-shirt and flip flops, sprint around your warm, heated house grabbing your belongings, and race out the door...where you suddenly find yourself surrounded by a cold, biting wind encompassing you in a horrible vortex of snow. You're completely unprepare ...
Read more

›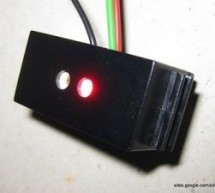 Colour reading is a real issue for industrial models. I've been working on it for more than 12 months now, since December 2009. After many months of hard work, • starting with the standard colour reader (season 1 ) with features a red LED, • adding extra light from bulb lamps (season 2 ), • using a powerful external white LED lamp (season 3 ), • changing the built-in standard red LED for a white LED (season ...
Read more

›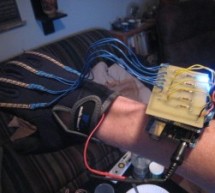 BTW!!!!! This instructable is awsomeeeeeeThis is a very simple but at the same time a very hard project depending on your skill level. Lets get to building! What this is, is a wireless animatronic hand that doesn't need a computer to operate. The user wears a control glove and can control the animatronic hand precisely. Bellow are some pictures of the final product: Step 2: Control Glove Materials: Arduino ...
Read more

›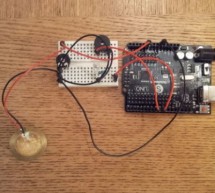 This is a simple Arduino sketch that was originally designed to experiment with arrays and the built-in timing functionality. I based it on the tutorial sample code http://www.arduino.cc/en/Tutorial/Knock The system consists of a piezo sensor connected to an analog pin that listens for a knock from the user. The Arduino then stores the time the knock occurred in an array. After a predefined time without fur ...
Read more

›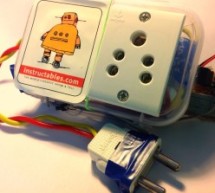 Hello everyone! This instructable is a tutorial that will guide you on using the Capacitive touch sensors with Arduino. A Capacitive sensor is a kind of touch sensor, that requires little or no force to activate. In this Instructable about capacitive touch sensing, I'll show you: How Capacitive Sensors work How to use them with an Arduino How to implement them in 3 Arduino projects, that are included in thi ...
Read more

›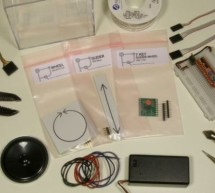 This is a tutorial for using the 7-Key Slider/Wheel Breakout from Rachel's Electronics. I'll show you how to solder up the header pins for maximum usability. Rachel's has the QT1106 datasheet on their site, and a great arduino library for this breakout. The kit from Rachel's Electronics comes packed with cool stuff: QT1106 breakout with header pins Slider Module with header pins Wheel Module with header pin ...
Read more

›