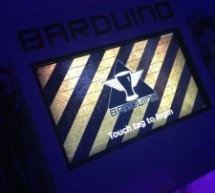 Got an Arduino? Like parties / alcohol? Can't be bothered to make your own bar quality cocktails? Make a Barduino! Its back, with new features in v2.0: Facebook integration - Facebook registration Page to track and graph drink consumption Touchscreen with gesture support RFID user login - sync with Facebook profile photo SQL drink database After party drink stats Illuminated drink dispenser The fully automa ...
Read more

›
This tutorial shows you how to create a sensor demo mat for the LilyPad Arduino. I wanted a place where I could experiment with the different sensors, but also something that I could use to show examples of what can be done without constantly uploading code. Step 1: Step 1: Supplies To complete this project I used the following: 1 x LilyPad 328 Main Board 1 x ProtoSnap - LilyPad Development Board which incl ...
Read more

›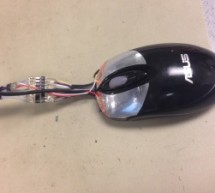 In the past five weeks, we have considered and built three projects, ranging from: optical sensing, electromyography (EMG), and galvanic skin response detection. Initially, our project was using an optical sensor and EMG to detect finger movement for applications, such as: playing piano and Morse code. However, after completing the hardware, due to issues with the hardware we could no longer measure a valid ...
Read more

›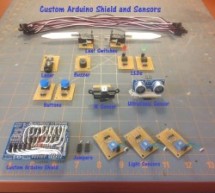 Overview: This instructable will construct a series of custom sensor modules and an Arduino shield. Such modules are available from many different sources, but fans of the Instructables website would probably find satisfaction in making their own. Each module will be a set size of 1.5cm by 2.5cm and employ a three pin connector of the form Signal-Voltage-Ground. The custom shield will break out the Arduino ...
Read more

›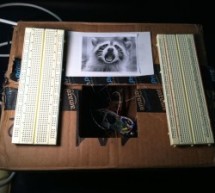 Welcome to my instructable on how to make an Arduino-controlled motion sensing camera and alarm! The motivation behind this project, which I worked on in my electronics class at Pomona College, was the need to keep away varmints (particularly raccoons) that were digging up my parents' yard. Although a simple motion sensing alarm would probably do the trick, I decided to add a camera to the circuit so that I ...
Read more

›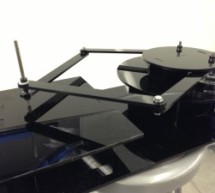 For our project, we built a planar, 2 degree-of-freedom haptic device for educational use. The design is based on a 5-bar mechanism. We wanted to build a device that would have the versatility to teach various concepts, but would still be relatively affordable (as the goal is implementation in classrooms). For this reason, we designed a device without a graphical display, that instead uses physical slides t ...
Read more

›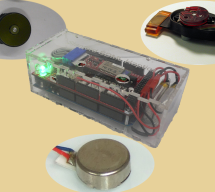 Mobile Phone There is a wide selection of mobile phones on the market. For our development, we chose Nokia 6210 Navigator due to its ability to run Java, accompanied by Bluetooth communication, and its small form factor. The phone mainly acts as a remote control for setting up the microcontroller. It provides the ability to adjust the trial condition configurations and let the microcontroller knows how the ...
Read more

›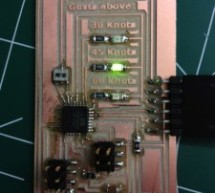 This week I continued developing a device that warns of the potential of a knockdown – the process by which an over-canvassed sailing ship is lain over on her beam-ends during a squall.  The potential for sinking at this point is high, especially if there are hatches open on the leeward side, so it is an event to be avoided.  As the reading of squall curves (from vessel stability booklets) is a skill rarely ...
Read more

›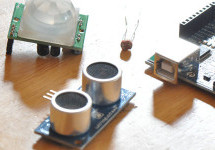 The last time I was home visiting my parents I noticed bumper imprints caused by my mother suburban on the stairs leading up from the garage. Their garage it turns out is just barely long enough to fit their gigantic vehicles. So I decided it would be nice to have some visual cue for parking. Out came the arduino and a sonar range finder from Radio Shack and the result was this tutorial. Hot glue the arduin ...
Read more

›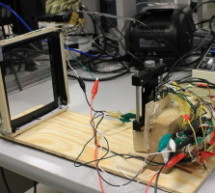 The DJ Touch is a portable turntable touchscreen and interactive LED display. Our end goal was to produce a low cost touchscreen device, and demonstrate its application in a common consumer application. Out of an interest in electronic music, and with the knowledge of deejaying's close roots to electronics, we decided to develop a touch screen turntable. The device relies on the concept of frustrated total ...
Read more

›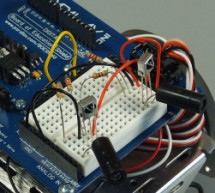 Schematic Since the IR Sensor uses a light sensor, the schematic is very similar to that of the light sensor. The only difference is the addition of an IR LED and that the IR detector requires connection to 5V and ground. Breadboard Setup To setup the sensors you will need: 2x IR Detectors 2x IR LEDs in housings 2x 2kΩ resistors (red-black-red) 2x 220Ω resistors (red-red-brown) 2x red jumper wires 2x black ...
Read more

›
Bring Touch Control to the Arduino. Use interesting touch sensors like Carrots or Beets to make a "Beetbox". In this instructable you will learn: * How to use the Cap Sense library to make Arduino responsive to touch * How adding a Wave Shield (and some root vegetables), you can make a "Beetbox" Step 1: You Will Need For the Touch Sensor part you will need: * Arduino UNO * A 4.7M Ohm resistor  (or a value s ...
Read more

›