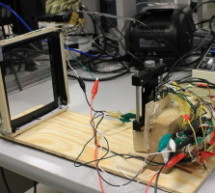 The DJ Touch is a portable turntable touchscreen and interactive LED display. Our end goal was to produce a low cost touchscreen device, and demonstrate its application in a common consumer application. Out of an interest in electronic music, and with the knowledge of deejaying's close roots to electronics, we decided to develop a touch screen turntable. The device relies on the concept of frustrated total ...
Read more

›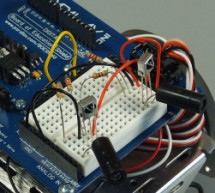 Schematic Since the IR Sensor uses a light sensor, the schematic is very similar to that of the light sensor. The only difference is the addition of an IR LED and that the IR detector requires connection to 5V and ground. Breadboard Setup To setup the sensors you will need: 2x IR Detectors 2x IR LEDs in housings 2x 2kΩ resistors (red-black-red) 2x 220Ω resistors (red-red-brown) 2x red jumper wires 2x black ...
Read more

›
Bring Touch Control to the Arduino. Use interesting touch sensors like Carrots or Beets to make a "Beetbox". In this instructable you will learn: * How to use the Cap Sense library to make Arduino responsive to touch * How adding a Wave Shield (and some root vegetables), you can make a "Beetbox" Step 1: You Will Need For the Touch Sensor part you will need: * Arduino UNO * A 4.7M Ohm resistor  (or a value s ...
Read more

›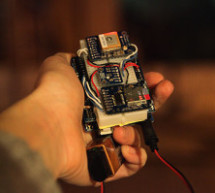 The Darkness Map encompasses both data collection and visualization of nighttime light levels. You can add to the map by downloading the app for iPhone or Android, but you can also contribute data by creating your own data collection device. This tutorial will cover how to build an Arduino powered data logger with a light intensity sensor. Since the sensor modules are attached to the Arduino on a breadboard ...
Read more

›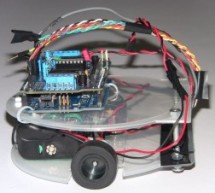 UPDATE FEB 2012: This guide is featured on Adafruit's blog http://www.adafruit.com/blog/2012/02/14/arduino-based-line-follower-robot/ This is Faz3a II, my first line-following robot, which I also hope to use for maze-solving. I used the Arduino Uno, Adafruit motor shield, Pololu's QTR-8RC line sensors and motors. You can build a cheaper and lighter version of this robot using the Atmel Atmega328 and the L29 ...
Read more

›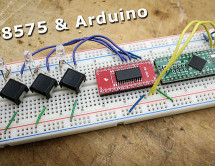 This Instructable will show you just how easy it is to add extra inputs to your Arduino. You can use this technique to add hundreds of extra inputs to your Arduino with only two wires by using a fancy communication protocol called i2c (eye-squared-see). Step 1: Build The Circuit The SDA and SCL lines enable i2c communication.Which pins are SDA and SCL? Uno, Ethernet: A4 (SDA), A5 (SCL) Mega2560: 20 (SDA), 2 ...
Read more

›
The Ping))) is an ultrasonic range finder from Parallax. It detects the distance of the closest object in front of the sensor (from 2 cm up to 3m). It works by sending out a burst of ultrasound and listening for the echo when it bounces off of an object. The Arduino board sends a short pulse to trigger the detection, then listens for a pulse on the same pin using the pulseIn() function. The duration of this ...
Read more

›
This was my very first arduino project.  Its great for beginners. Fade the color or the lights my moving your hands near it.  It fades from a pretty purple blue to a firey red-orange. Its was SUPER easy to build, not to hard to write the code, and its really impresses people!  I gave it to my mother for christmas, and it was a big hit. Watch the video to see it in action! I apologize for the poor quality, I ...
Read more

›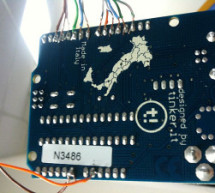 A few members of the Alpha One Labs Hackerspace do not like the harsh light given out by fluorescent fixtures.  They wanted a way to be able to easily control the individual fixtures, perhaps with a laser pointer? I got right on it.  I dug out a pile of solid state relays and brought them to the Lab.  I bought an Arduino Duemilenova and demonstrated the use of the LED Blink example sketch to actually blink ...
Read more

›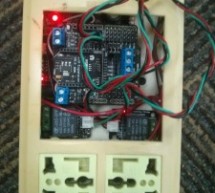 I found my self often trying to plug stuff at home with Arduino. So I thought it would be good to have a system that you can just plug your sensor, plug the appliance and code something to see how it goes. I never liked breaking apart an appliance to find the right spot on the electronics, or peel off the wire. What do you need? A common plug, for example think of a lamp, then you plug it on the wall wart, ...
Read more

›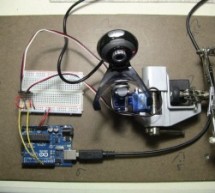 UPDATES Feb 20, 2013: In response to a question by student Hala Abuhasna if you wish to use the .NET Serial class, use the naming convention "\\\\.\\COMn" and replace n with a number > 9 to define your com port for COM ports above 9 such as COM10, COM11, etc. Mar 23, 2012: Featured on Adafruit's Blog Mar 23, 2012: Featured on Interactive Design Dec 13, 2011: Featured on Floss For Science This guide will ...
Read more

›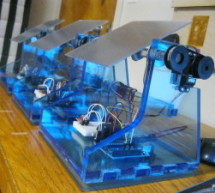 Introduction We aim to introduce young students to engineering and teach them about solar energy; by having them build a Helios as part of their curriculum. There is an effort in engineering to push energy generation away from the use of fossil fuels and towards greener alternatives. One option for greener energy is to use a device called a heliostat, which uses a mirror to direct the sun's light onto a tar ...
Read more

›