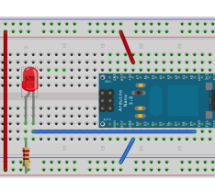 This lab most recently revamped by Edgar Berdahl and Wendy Ju. Chris Carlson, possibly Bill Verplank, and others have likely contributed. For this lab you need your Satellite CCRMA kit, a laptop computer with Ethernet adaptor to program it, and some headphones with a mini 1/8" (2.54mm) stereo jack. You are also invited to bring the following optional items, but they are by no means required: Some of your fa ...
Read more

›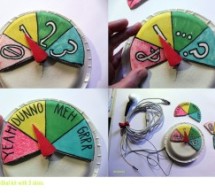 In this critical making project, we will be making a personal iDial, which will give you, the wearer, the ability to reflect on your personal identity in a private space, and then spatially and temporally dislocate your 'private self' into public conversation! You might be thinking, 'this device looks ridiculous'. Well, that's the point. This iDial is a 'post-optimal device' (Dunne, 2006). It doesn't have t ...
Read more

›
List of tools: 1. Exacto 2. Arduino Nano / USB chord (Mini-B) 3. Dremel / Drill 4. Paper & Pencil 5. Sharp IR Sensor (2Y0A21 F) 6. Hot glue gun 7. Solder gun / Solder 8. A small mirror Ok so you might ask, why the heck are you doing this to a trackball?! aren't those for people from the 80s?? the one with keytars?? My response is two fold. No. 1 I have a keytar and they are MAGICAL. 2. I hated trackball ...
Read more

›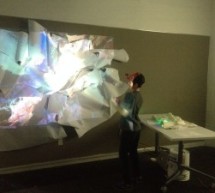 This is a step-by-step on how to connect Arduino to OpenFrameworks using Spacebrew. More specifically our project focuses on the awesomeness of Capacitive Sensing to alter OF projections to create an awesome tactile experience! What the process will involve: Arduino -> Processing -> SpaceBrew -> OpenFrameworks What you will need: Software: Arduino Processing OpenFrameworks Capsense Library for Ardu ...
Read more

›
I used: an Arduino Uno a Parallax PIR Motion Sensor and a Seeed Studio SD Card Shield Arduino, shield, sd card, logging shield, storage, logger Check out This instructable on PIRs in case you didn't know what it is: http://www.instructables.com/id/PIR-Motion-Sensor-Tutorial/ Step 1: Connect your PIR Sensor Hook up the PIR Sensor Ground pin to Ground VCC pin to 5V OUT to A5 To better help you understand how ...
Read more

›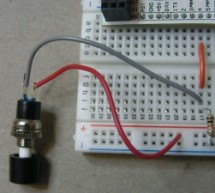 In many cases switches are just switches. They directly control the flow of electricity to an appliance, flashlight or mains-voltage lamp. An example of this is the switch on the wall in your living room. In many cases nowadays however, switches are digital sensors, meaning that instead of directly controlling a high-powered device, they are controlling a logic (low power) signal to a microcontroller (eg Ar ...
Read more

›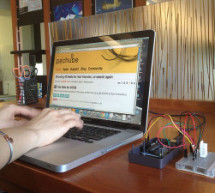 Often government data sets available to us online are taken from major nearby metropolitan areas or infrastructural centers. With an easy to follow introduction to new softwares and technologies the "urban sensor kit" allows anyone to obtain location specific information and share that information with a growing community of designers, researchers, and many others. This urban sensor kit is designed to creat ...
Read more

›
The tutorials we used. http://www.instructables.com/id/Touche-for-Arduino-Advanced-touch-sensing/?ALLSTEPS http://www.instructables.com/id/Calm-Relaxed-Interaction-Plant-Plus-1/?ALLSTEPS Download arduino software and the processing software. From their respective websites. Processing.org arduino.cc   All of the supplies we used: (we didn't include the water bottle as a sensing object, and used an inductor i ...
Read more

›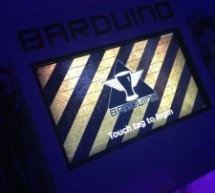 Got an Arduino? Like parties / alcohol? Can't be bothered to make your own bar quality cocktails? Make a Barduino! Its back, with new features in v2.0: Facebook integration - Facebook registration Page to track and graph drink consumption Touchscreen with gesture support RFID user login - sync with Facebook profile photo SQL drink database After party drink stats Illuminated drink dispenser The fully automa ...
Read more

›
This tutorial shows you how to create a sensor demo mat for the LilyPad Arduino. I wanted a place where I could experiment with the different sensors, but also something that I could use to show examples of what can be done without constantly uploading code. Step 1: Step 1: Supplies To complete this project I used the following: 1 x LilyPad 328 Main Board 1 x ProtoSnap - LilyPad Development Board which incl ...
Read more

›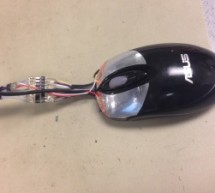 In the past five weeks, we have considered and built three projects, ranging from: optical sensing, electromyography (EMG), and galvanic skin response detection. Initially, our project was using an optical sensor and EMG to detect finger movement for applications, such as: playing piano and Morse code. However, after completing the hardware, due to issues with the hardware we could no longer measure a valid ...
Read more

›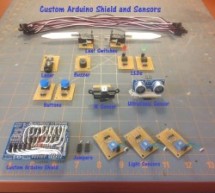 Overview: This instructable will construct a series of custom sensor modules and an Arduino shield. Such modules are available from many different sources, but fans of the Instructables website would probably find satisfaction in making their own. Each module will be a set size of 1.5cm by 2.5cm and employ a three pin connector of the form Signal-Voltage-Ground. The custom shield will break out the Arduino ...
Read more

›