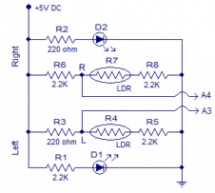 A line follower robot using 8051 microcontroller is already published here and this time the same thing is done using  arduino. This line follower robot is basically designed to follow a black line on a white surface. Any way the same project can be used to follow the opposite configuration with appropriate changes in the software. The entire hardware of this simple line follower robot using arduino can be ...
Read more

›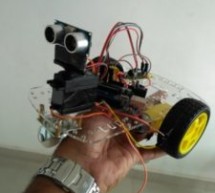 This project is designed to build a robot that automatically detects the obstacle on its path and guides itself whenever an obstacle comes ahead of it. This robotic vehicle is built, using Arduino UNO board. An ultrasonic sensor is used to detect any obstacle ahead of it. A motor driver IC and 2 DC motors are used for controlling the movement of the robot. A servo motor is also used in this project. The ult ...
Read more

›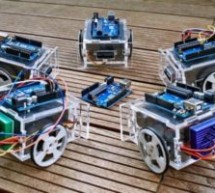 The aim is to build cheapest possible Arduino-robot Step 1: Components Arduino UNO R3 x1 USB cable x1 Mini solderless breadboard x1 IR sensor x1 Continuous rotation servo x2 Battery holder x1 AA battery x4 Bunch of color wires Step 2: Getting Started With Arduino IDE First of all we need to install Arduino IDE. The Getting Started Guide from the official Arduino website will tell you everything about it. On ...
Read more

›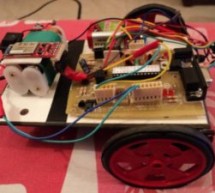 Ever wanted to make an Android controlled robot or car? Control your RC car with a smartphone? Or wanted a tutorial about connected devices and getting started with it? Now you can do that with this simple DIY hack that even provides you with a free Android application, thus it doesn't require you to have any experience in Android application programming. Download the free application to your phone and star ...
Read more

›
One of the simplest projects you can make for your first time using an Arduino is an obstacle avoiding robot. If you are a beginner to Arduino and want to learn more about it, this Arduino robot tutorial will teach you the basics while you build a cool robot. This project will give you a clear idea on how to interface DC motors, IR sensors, and motor drivers with an Arduino. You can take advantage of the kn ...
Read more

›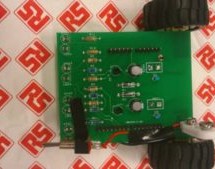 This line tracking robot car was built base on the prototype mentioned in the previous knowledge item. You can find the details for the prototype: http://www.rs-online.com/designspark/electronics/eng/knowledge-item/arduino-line-tracking-robot-car-prototype Bills of Materials: PCB Geared Motor OSRAM Opto Semiconductors Photodiode (RS stock number: 654-8902) Nichia LED (RS stock number: 713-3996) RS 10 ...
Read more

›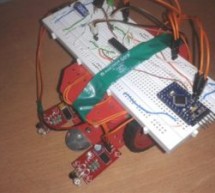 Line follower Robot is a machine which follows a line, either a black line or white line. Basically there are two types of line follower robots: one is black line follower which follows black line and second is white line follower which follows white line. Line follower actually senses the line and run over it. Concepts of Line Follower Concept of working of line follower is related to light. We use here th ...
Read more

›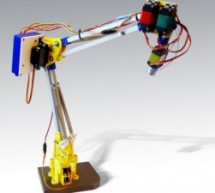 This is first version of my low cost 3d printed robot arm. It is based on Ikea Tertial lamp. I choose it because it has very good kinematic with using springs to unload servos. So you can use different number of springs to achive diffrent lifting power. Techinacal specification: 5 DOF. Full lenght: 690mm Lifting power with 4 standart spring: 0.5kg (distance between base and attaching point: 500mm) You can f ...
Read more

›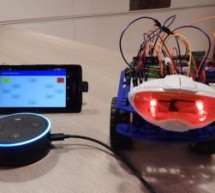 Story Voice-controlled Robot Voice-controlled robot is both hardware and cloud solution in one piece. The main components are: 1. Alexa Skill - to interpret voice commands and translate them to Google Cloud Messaging messages - deployed to Heroku cloud 2. Android application - to receive messages from Google Cloud Messaging and send them over bluetooth to Arduino - deployed to your Android phone 3. Arduino ...
Read more

›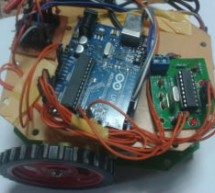 In present time almost all the people are familiar with robots. Robots play a very important role in human life. Robots are a machine which reduces the human efforts in heavy works in industries, building etc. and makes life easy. We are here with our next robot that is Mobile or DTMF Controlled Robot. DTMF controlled Robot runs over mobile DTMF technology that exists in Dial tone. DTMF stands for Dual Tone ...
Read more

›
Robots are playing an important role in automation across all the sectors like construction, military, medical, manufacturing, etc. After making some basic robots like line follower robot, computer controlled robot, etc, we have developed this accelerometer based gesture controlled robot by using arduino uno. In this project we have used hand motion to drive the robot. For this purpose we have used accelero ...
Read more

›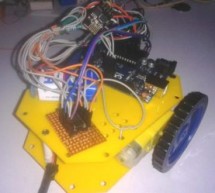 There are many types of Robots, from the simple ones like a Toy car to the advanced ones like industrial Robots. We have already covered many types of Robots using different technologies, have a look at them: Line Follower Robot using 8051 Microcontroller Line Follower Robot using Arduino DTMF Controlled Robot using Arduino And now we are adding one more Robot in our 'Robotics Projects' section, this time w ...
Read more

›