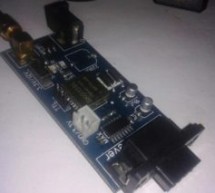 GPS is a very useful device which is used in many electronics projects and applications like vehicle tracking system, GPS Clock, Accident Detection Alert System, traffic navigation and surveillance system etc. But question is how to use the GPS and read the data from GPS? We can easily get the GPS data directly into our computer using Arduino. GPS stands for Global Positioning System and used to detect the ...
Read more

›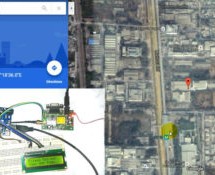 Vehicle Tracking System becomes very important now days, especially in case of stolen vehicles. If you have GPS system installed in your vehicle, you can track you Vehicle Location, and its helps police to track the Stolen Vehicles. Previously we have built similar project in which Location coordinates of Vehicle are sent on Cell Phone, check here 'Arduino based Vehicle Tracker using GPS and GSM. Here we ar ...
Read more

›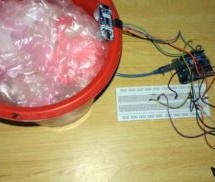 In this DIY, we are going to make an IOT based dumpster/garbage Monitoring System which will tell us that whether the trash can is empty or full through the webserver and you can know the status of your 'Trash Can' or 'Dumpsters' from anywhere in the world over the Internet. It will be very useful and can be installed in the Trash Cans at public places as well as at home. In this IOT Project, an Ultrasonic ...
Read more

›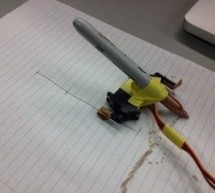 We built a mini-crawler robot that draws a path behind it to make interesting designs. We chose this design for a variety of reasons. First and foremost, we experimented with attaching our other materials to the motors, and most of them were too heavy for the motors to handle. In particular, we wanted to use the DC motor to drive a wheel, but all materials were too heavy for it. For this reason using the sl ...
Read more

›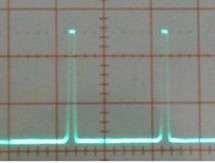 Tachometer is a device used for measuring the number of revolutions of an object in a given interval of time. Usually it is expressed in revolutions per minute or RPM. Earlier tachometers purely mechanical where the revolution is transferred to the tachometer through mechanical coupling (cable or shaft) , the rpm is determined using a gear mechanism and it is displayed on a dial. With the advent of modern e ...
Read more

›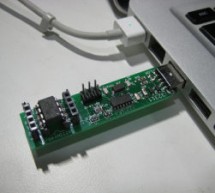 This tutorial shows you how to program an ATtiny45, ATtiny85, ATtiny44 or ATtiny84 microcontroller using the Arduino software. These are small, cheap ($2-3) microcontrollers that are convenient for running simple programs. The ATtiny45 and ATtiny85 have eight legs and are almost identical, except that the ATtiny85 has twice the memory of the ATtiny45 and can therefore hold more complex programs. The ATtiny4 ...
Read more

›
Talking to Arduino over a serial interface is pretty trivial in Python. On Unix-like systems you can read and write to the serial device as if it were a file, but there is also a wrapper library called pySerial that works well across all operating systems. After installing pySerial, reading data from Arduino is straightforward: >>> import serial >>> ser = serial.Serial('/dev/tty.usbserial' ...
Read more

›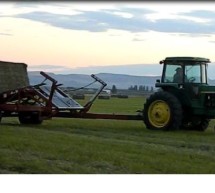 Modified BaleScoop(for picking hay bales out of the field) from manual levers to arduino controlled functions. This eliminates the need for 3 sets of hydraulic hoses to only one set and operator can focus more on where they are going rather then controling the implement. This is set up for a "Field Mode" and a Travel Mode", and has 3 switched to still control the implment manually to unload the bales or ali ...
Read more

›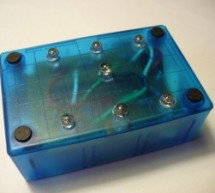 In this project we make electronic dice. Updated 18/03/2013 In this article you can learn how to make an electronic die (die is the singular of dice), using an ATmega328 with Arduino bootloader and a few inexpensive components. The reason for doing this is to introduce another object that you can build, learn from and be proud of. It is a fairly simple procedure, and at the end you will have something that ...
Read more

›
We have written a tutorial for Rotary Encoders using a Microchip microcontroller but now would be a good time to make an Arduino UNO version. With a rotary encoder we have two square wave outputs (A and B) which are 90 degrees out of phase with each other. The number of pulses or steps generated per complete turn varies. The Sparkfun Rotary Encoder has 12 steps but others may have more or less. The diagram ...
Read more

›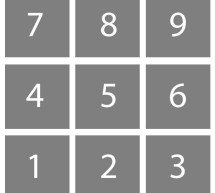 The physical interface will consist of a 3×3 grid of push buttons that will correspond to a 3×3 grid of images in the Processing program.  Instead of a creating a 2D array of variables to correspond to the buttons' postions in the grid, each location in the grid will be assigned a number.  Each push button will represent the corresponding number in the image grid.  For the purposes of prototyping, a 5-butto ...
Read more

›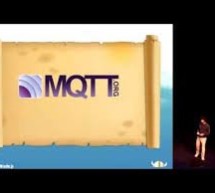 MQTT is a lightweight messaging protocol for the Internet of Things. This post details the use of Stream support for large payload storage in the Arduino MQTT library. MQTT is a lightweight protocol, but that doesn't mean that the payloads have to be small. The spec was designed to allow for messages up to 256MB, but taking advantage of this with an Arduino can be difficult as they usually only have small a ...
Read more

›