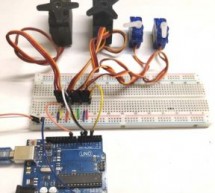 Using one or two Servo with Arduino is Easy but what if we want to use more than one Servo Motors? Here, we are going to show you that how to control Multiple Servo Motors with Arduino. Connecting multiple Servo Motors with Arduino seems to be easy and but if we connect all the Servos to Arduino supply pins then they won't work correctly because of lack of enough current to drive all the motors. So you have ...
Read more

›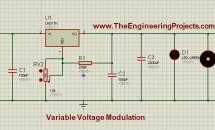 Hello friends, hope you all are fine and having fun. In today's post we are gonna have a look at LM317 Voltage Regulator in Proteus. In the previous post, we have seen how to design a 5V Power Supply in Proteus ISIS, which I have designed using IC regulator 7805. Today I am going to share How to design LM317 Voltage Regulator Circuit in Proteus. This DC power supply is a variable one means you can set its o ...
Read more

›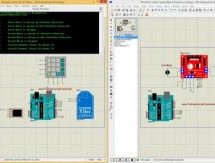 Hello friends, I hope you all are doing great. In today's tutorial, we are gonna design a project named DC Motor Control using XBee & Arduino in Proteus ISIS. I have shared the complete code and have also explained it in detail. You can also download the complete working Proteus Simulation given at the end of this tutorial. In this project, I have designed two Proteus Simulations. The first Simulation i ...
Read more

›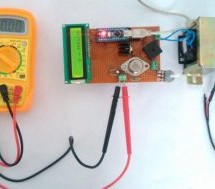 Batteries are generally used to power up the Electronic Circuit and Projects, as they are easily available and can be connected easily. But they drained off quickly and then we need new batteries, also these batteries cannot provide high current to drive a powerful motor. So to solve these problems, today we are designing our own Variable Power Supply which will provide Regulated DC voltage ranging from 0 t ...
Read more

›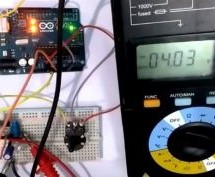 In this project we are going to make a Buck Converter Circuit using Arduino and N-Channel MOSFET with a maximum current capacity of 6 amps. We are going to step down 12v DC to any value between 0 and 10v DC. We can control the output voltage value by rotating the potentiometer. A buck converter is a DC to DC converter, which steps down DC voltage. It is just like a transformer with one difference; whereas t ...
Read more

›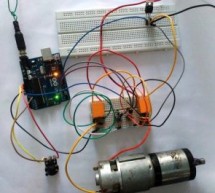 In this project we control direction and speed of a 24v high current motor using Arduino and two relays. No power switches are needed for this circuit, just two push buttons and in Potentiometer to control the direction and speed of DC Motor. One push button will rotate motor clockwise and other will rotate it counter clockwise. One n-channel MOSFET is required to control speed of motor. Relays are used to ...
Read more

›
Stepper (or step) motors are really cool. They are perfect for automation or any time you need a motor to turn to a specific point, at a specific speed, in a specific direction. For this article I wont get into why, or how, but unlike typical motors, steppers are able to do all of this, and hold their position when they are not moving – You pay for this by essentially powering them at full power all the tim ...
Read more

›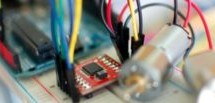 First off: I know… we went overboard with the motor illustration. In previous articles we have discussed how to control motors with simple transistors. And… with PWM you could control the speed. But that is just one motor, and you can only go one direction. Today we are going to talk about the TB6612FNG dual motor driver, specifically the TB6612FNG breakout board from sparkfun. The TB6612FNG isn't just a du ...
Read more

›
PWM or pulse width modulation is a very common method used for controlling the power across devices like motor, light etc. In PWM method the power across the load  is controlled by varying the duty cycle of the drive signal. More the duty cycle more power is delivered across the load and less the duty cycle, less power is delivered across the load. A hex keypad is used for controlling the speed. The speed c ...
Read more

›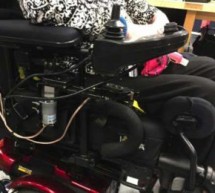 This was an Arduino wheelchair project we developed for Principles and Practices of Assistive Technology (PPAT) in Fall 2016 at MIT. We made an Arduino-based motorized wheelchair controller mount for our client, Lisa. She lives at the Boston Home, a center for people with progressive neurological diseases, and has Multiple Sclerosis. With her old controller mount, she would often bump into sinks and tables ...
Read more

›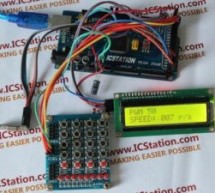 ICStation team introduce you the NRF24L01 Wireless Motor Speed Control System.This system works under DC 5V voltage. It uses the NRF24L01 Wireless Module to transmit speed control data and the Hall Sensor to detect the real rotate speed. This design uses the PWM duty cycle to modulate and realize the speed control. What's more, It can be used in situations which do not need high speed control precision, suc ...
Read more

›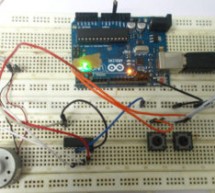 Here we are going to interface a DC motor to Arduino UNO and its speed is controlled. This is done by PWM (Pulse Width Modulation). This feature is enabled in UNO to get variable voltage over constant voltage. The method of PWM is explained here; consider a simple circuit as shown in figure. If the button is pressed if the figure, then the motor will start rotating and it will be in motion until the button ...
Read more

›