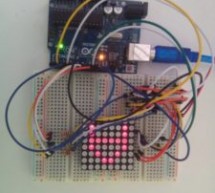 LED matrix displays can be used to display almost anything. Most modern LED sign boards uses various types of matrix boards with controllers. In this tutorial we are going to interface a single color 8×8 LED matrix with Arduino and display a few characters in it. 8×8 matrix consists of 64 dots or pixels. There is a LED for each pixel and these LEDs are connected to total of 16 pins. You can identify the pin ...
Read more

›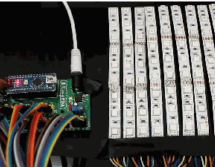 In this tutorial, we are going to build an LED Scroll Bar as shown in the image given below. The project is designed to flash Ten LED strips ( by giving different lighting patterns for each strip) with the help of a control board. We have created a simple GIF animation of the project to give you a good idea of what we are going to build. So here take a look at the animation of working model of LED Scroll Ba ...
Read more

›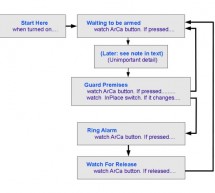 I wrote this one hot week in July 2010. I've been leaving my front door ajar, to get some air through the house. Probably not a very good idea. So I thought I'd hook up an Arduino to ensure that no one takes advantage of the door being unlocked. This essay isn't meant, primarily, to tell you how to make a "fantastically useful" device. While the device is useful, and could be used for several things, the ma ...
Read more

›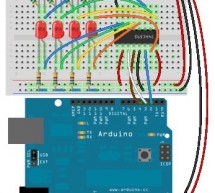 Topics: First Build The Circuit The Code Hardware Theory Overview-"Rollover Rollover" What is a Shift Register How the Arduino Controls the Shift Register Software Theory The shiftOut Function Binary Numbers Other Functions in the Code Exercise References 1. First Build It would be a really good idea to build this circuit before going to the lab because it is time consuming to connect all of the wires. 1.1 ...
Read more

›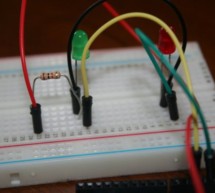 So what I want to do here is do several things with two LEDs with speech recognition I'm using bitvoicer you can get it here Step 1: Part List So I'm doing this with as little parts as I can, here's the list: Green LED Red LED Breadboard 1k Resistor Jumper Cables Computer Computer Mic(you can use a microphone Ardunio (I'm using the UNO but any kind will work) bitVoicer you can get that here Step 2: How to s ...
Read more

›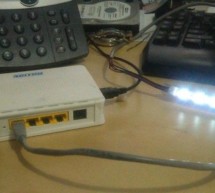 In this section we will explain exactly how you can create your own Amblone setup, consisting of 3 RGB LED strips and an Arduino Mega. What do I need? To create the Amblone setup described in this guide, you will need the following: Amblone software An Arduino microcontroller, for example the Arduino Mega A USB A to B cable RGB LED strips that can be manually controlled (make sure you are not buying some au ...
Read more

›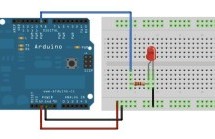 Demonstrates the use of the analogWrite() function in fading an LED off and on. AnalogWrite uses pulse width modulation (PWM), turning a digital pin on and off very quickly, to create a fading effect. Circuit Connect the anode (the longer, positive leg) of your LED to digital output pin 9 on your Arduino through a 220-ohm resistor. Connect the cathode (the shorter, negative leg) directly to ground. image de ...
Read more

›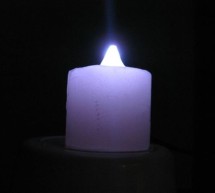 RC MOOD LYTE is a commercial quality flameless light engine for heavy, everyday use in the home, restaurant, catering and hospitality industry ,a great improvement over the traditional wax candles in terms of safety and reliability features . LED Candles have No wax, No smoke, No heat, No mess. ECO BENEFITS Safety: eliminates fire danger and personal injury. Safe for small children too. Zero Emissions: no s ...
Read more

›
Greetings! I'm Russell Petersen. I'm an engineer, inventor, designer, fabricator, and dreamer. I'm a junior Electrical Engineer by trade, located and working in the San Francisco Bay Area. I love playing with Solid State Lighting, and came up with this idea one night. Simply stated, It's a custom built light box with a logo adhered to the front, and lit by a RGB LED module. This project is easily adaptable ...
Read more

›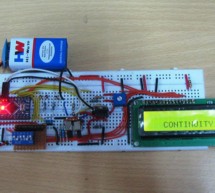 This is a project based on Arduino board which can measure the unknown resistance values and perform diode test and continuity testing. When we connect the unknown resistor on the breadboard circuit, the 16x2 LCD displays the resistor value and when we connect a diode the LCD displays the type of diode if it is a good one. When we take the probes out from the breadboard and connect it across a continuous pa ...
Read more

›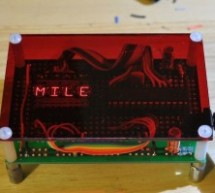 Build an Arduino-powered version of the "Four Letter Word Generator" (FLW). This version generates "words" on the fly - it does not use a list. The "original" version from the 1970's used B7971 nixie alphanumeric tubes. These tubes are getting hard to find and they're certainly expensive. They also require interfacing with high voltage and an understanding of multiplexing. This version uses a slightly more ...
Read more

›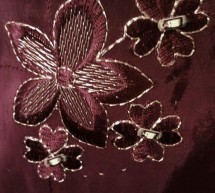 Let's be honest for a moment, doesn't everyone want a dress that lights up at your very whim? No? Alright, well I do. It's pretty straightforward, though the programming gets a wee bit tricky. So pick up your pencil, sketch out a design and then we'll talk parts.Here Step 1: Material [box color="#985D00" bg="#FFF8CB" font="verdana" fontsize="14 " radius="20 " border="#985D12" float="right" head="Major Compo ...
Read more

›