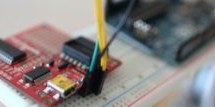 The following code and library are compatible with arduino software 1.0+ ONLY. You can download the newest version of the arduino software here. When you start to talk about biometrics in electronics, heart-rate is usually the first thing to come up. And why not? I think it is often the thing we are most aware of changing when we get excited, nervous, are being active, or very calm. There are several ways o ...
Read more

›
The objective of this post is to explain how to fade a LED with the ESP32, using the LED PWM functionalities. Introduction The objective of this post is to explain how to fade a LED with the ESP32, using the LED PWM functionalities of the microcontroller. I will be using DFRobot's FireBeetle ESP32 board to perform the tests. Since the board as a built in LED, no external hardware will be needed. Note that a ...
Read more

›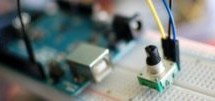 One of the first things anyone does when they start working with the Arduino is to connect it to a potentiometer and control the brightness of and LED or move a servo. Well, a rotary encoder may look like a potentiometer, but other than also having a knob, it is basically the complete opposite. A rotary encoder is a device that you can rotate infinitely. Simple ones like this one I got from sparkfun have no ...
Read more

›
This is something I use all the time, so I figured I would share it with you. Controlling an Arduino over serial can be extremely simple if you let it, and extremely useful if you know how to use it. Many languages such as Processing and ActionScript 3 (with a proxy) have ways to communicate over serial, and typically you see people using this so they can display the output of an Arduino, or use firmata to ...
Read more

›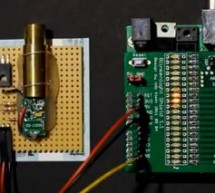 [highlight bgcolor="ffbb00"]I have collected 2 methods to create laser range finder, one is very simple but for hobbiest the first one using arduino clock but it comes with errors. Its just to conceptulize how we can create range finder. The second one with the The 7558 and 7555 Series Rangefinder/Processor professional one. It uses already built kits we only have to use these to developer arduino based ran ...
Read more

›
This is arduino based collision detection warning system. This kind of system is fastest growing safety feature in automotive industries. Such system enables vehicles to identify the chances of collision and give visual and audio warning to driver. So that driver can take necessary action to avoid collision. This project idea is based on arduino controller and the whole system will give you very good unders ...
Read more

›
7 Segment LED displays are used in many applications as front panel number indicators. The most common applications are calculators, microwave ovens, electronic lab equipment like function generators and frequency counters. A 7 segment LED display consists of 7 LEDs arranged in such a way that it can display numbers from 0 to 9. The arrangement of LEDs in the display can be either common anode or common cat ...
Read more

›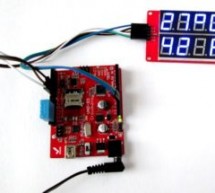 In this blog post, I am providing you step by step instructions to build a very simple temperature and relative humidity meter for indoor use. All you need to build this project are an Arduino Uno or compatible board, a DHT11 sensor, and a MAX7219 based 8-digit serial 7-segment LED display. The temperature is displayed in degree Celsius and relative humidity in percentage. Things required to build this proj ...
Read more

›
Seven segment LED displays are brighter, more attractive, and provide a far viewing distance as well as a wider viewing angle compared to LCD displays. This project describes a serial seven segment LED display shield for Arduino Uno or compatible boards. The shield consists of eight 0.56″ seven segment displays that are driven by one MAX7219 chip. The shield also features a light dependent resistor (LDR) to ...
Read more

›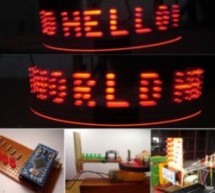 Here is a simple project using an Arduino and some LEDs. What we are going to learn here today is how to make a POV display or Persistence-Of-Vision display. It is made out of just 6$ worth of components. This tutorial gives will teach you how to make a simple and a cheap Arduino POV display. We can use this display as a pocket-sized portable message showing device and tabletop clock. How Does it Work? What ...
Read more

›
A simple project to display cool 8bit art and animation on your backpack! This is a quick and easy project you could finish off in minutes and show off to your friends. What it does is, when you move your backpack, a dot matrix display turns on and shows any character you have programmed in it. In this case its a fun pixelated character. Required Materials 1. MAX7219 Dot Matrix Display Module 2. Arduino ...
Read more

›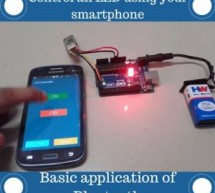 Ever thought of controlling any of your electronic devices with your smart phone? How about a robot or any other device? Wouldn't it be cool to control them with your smartphone? Here is a simple tutorial for interfacing an Android Smartphone with Arduino via Bluetooth! Required Materials Hardware Bluetooth Module HC 05/06 Arduino & Battery (with cable) LED 220Ω Resistor Android device Software Arduino ...
Read more

›