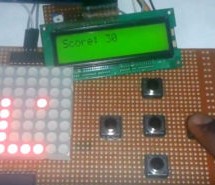 Snake Game has been very popular since the beginning of the Mobile phones. Initially it was come in Black and white cell phones, and soon became very famous. Then with the advancement of the Cellphones, this game has also changed a lot, and now many graphical and colourful versions of this game are available. Snake game has also become very popular DIY project for electronics Hobbyist and Students. So today ...
Read more

›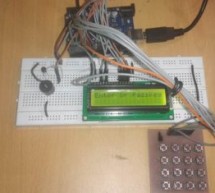 Security is a major concern in our day to day life, and digital locks have became an important part of these security systems. One such digital code lock is imitated in this project using arduino board and a matrix keypad. Components Arduino Keypad Module Buzzer 16x2 LCD BC547 Transistor Resistor (1k) Bread board Power Connecting wires In this circuit we have used multiplexing technique to interface keypad ...
Read more

›
Prepaid Electricity Energy Meter is a good concept in which you can recharge its balance, like we do in our mobile phones. In this project we are building a automated system by using Arduino and GSM module. You can recharge the electricity balance through this system, just by sending a SMS. It can also disconnect the home power supply connection, if there is low or zero balance in the system. And this syste ...
Read more

›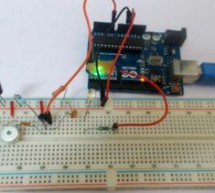 In this project we are going to make Clapper circuit using the concept of ADC (Analog to Digital Conversion) in ARDUINO UNO. We are going to use a MIC and Uno to sense the sound and trigger a response. This Clap ON Clap OFF switch basically turns ON or OFF the device, by using the clap sound, as switch. We have previously built Clap switch and Clap ON Clap OFF switch, using 555 Timer IC. On clapping there w ...
Read more

›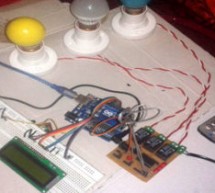 Previously we have covered many types of Home automations using different technologies like DTMF Based Home Automation, PC Controlled Home Automation using Arduino, Bluetooth Controlled Home Automation. In this project, we are using IR based wireless communication for controlling home appliances. In this project, Arduino is used for controlling whole the process. We send some commands to the controlling sys ...
Read more

›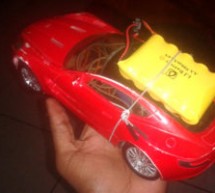 After developing few popular robotic projects like line follower robot, edge avoiding robot, DTMF robot, gesture controlled robot, etc. in this project we are going to develop a bluetooth controlled robo car. Here we used a Bluetooth module to control the car, and it is also an android based application. Components Arduino UNO DC Motors Bluetooth module HC-05 Motor Driver L293D 9 Volt Battery and 6 volt bat ...
Read more

›
In this tutorial we will develop a circuit using Force sensor, Arduino Uno and a servo motor. It will be a servo control system where the servo shaft position is determined by the weight present on the force sensor. Before going any further let's talk about about the servo and other components. Servo Motors are used where there is a need for accurate shaft movement or position. These are not proposed for hi ...
Read more

›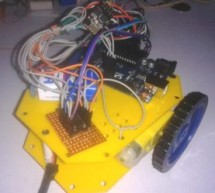 There are many types of Robots, from the simple ones like a Toy car to the advanced ones like industrial Robots. We have already covered many types of Robots using different technologies, have a look at them: Line Follower Robot using 8051 Microcontroller Line Follower Robot using Arduino DTMF Controlled Robot using Arduino And now we are adding one more Robot in our 'Robotics Projects' section, this time w ...
Read more

›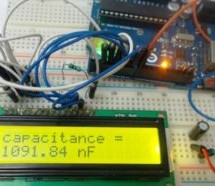 When we come across circuit boards which are previously designed or we take out one from old TV or computer, in attempt to repair it. And sometimes we need to know the capacitance of particular capacitor in the board to eliminate the fault. Then we face a problem in getting the exact value of capacitor from the board especially if it is a Surface Mount Device. We can buy equipment for measuring the capacita ...
Read more

›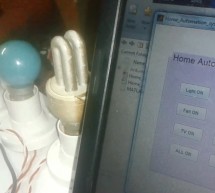 We all are familiar with the word 'Automation', where the human interaction is minimal and things can be controlled automatically or remotely. Home automation is very popular and demanding concept in the field of Electronics, and we are also making our best efforts to make this concept easily understandable and manageable as Electronics Projects. We have previously developed several types of Home Automation ...
Read more

›
There are many GPS satellites around the Earth which are used to provide the exact location of any place. Along with the location coordinates (Latitude and Longitude), it also provide other data like time, date, altitude, direction tracking angle etc. We have already learned to read this GPS data from Satellite using Arduino. So we are going to make a GPS clock using the 'Time and Date' data from the GPS sa ...
Read more

›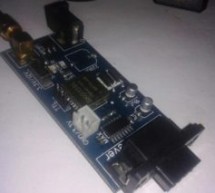 GPS is a very useful device which is used in many electronics projects and applications like vehicle tracking system, GPS Clock, Accident Detection Alert System, traffic navigation and surveillance system etc. But question is how to use the GPS and read the data from GPS? We can easily get the GPS data directly into our computer using Arduino. GPS stands for Global Positioning System and used to detect the ...
Read more

›