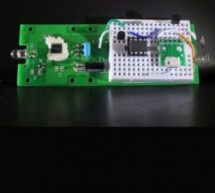 Hardware components: Atmel ATTiny85 × 1 Everything ESP ESP8266 ESP-01 × 1 Arduino Nano R3 × 1 STORY My goal is to make my window AC units more functional.  Currently they use an on-board thermostat to turn on when the room gets above a certain temperature ('duh).  I feel like there is a lot I can do to improve on both the efficiency (less electricity usage) and performance (cooler house throughout th ...
Read more

›
Hardware components: Atmel ATTiny85 × 1 SparkFun Tiny AVR Programmer × 1 Software apps and online services: Arduino IDE STORY Introduction The Atmel tinyAVR MCU's (ATtiny) are a series of chips optimized for applications requiring performance and/or power efficiency in a small package. These have internal clocks that runs at 8 MHz. They can also be clocked at 16 MHz and 20MHz using an external clock. ...
Read more

›
Bare bones: The ATtiny85 on its Own The ATtiny is a small, inexpensive chip that can replace the Arduino in a project you have prototyped. This helps make the project smaller and more permanent, as well as freeing up the Arduino for more fun! The chip comes in a few different types – ones with more flash memory, lower power, and so forth. The ATtiny is great if you want to program a bunch of chips in a row, ...
Read more

›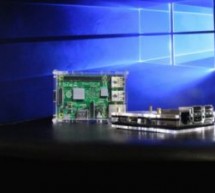 Oh, Hai Hai ('hi') is an integration point for several stand alone smart home technologies.  Hai runs on the Raspberry Pi and can be adapted to optimize electricity consumption (lighting/HVAC) and water usage (irrigation/rain collection) in a number of ways. Hai was originally envisioned for any Pi running Raspbian OS, but is also being ported over to utilize the new Windows IoT Core on a Raspberry Pi 2. Th ...
Read more

›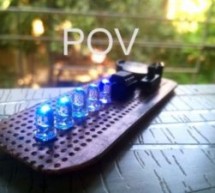 Persistence of vision is an optical illusion, it works on a simple phenomenon how our day to day television works. MY first pov was six months before with arduino uno and with motor. However it is best to have a small and portable device that can be carried anywhere and image can be seen without any external motors or fan. This small portable pov version uses attiny 85 ic, smaller variant of arduino uno tha ...
Read more

›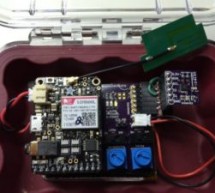 I have been collecting data from Raleigh's trails and parks for the last couple years.  My primary platform has been a custom Arduino board I developed for low-cost (hey, these things may get damaged or stolen) and long battery life.  I wanted a connected sensor to provide current data and, after looking at various technologies, I have settled on cellular as the most convenient. This sensor uses an off-the ...
Read more

›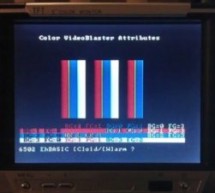 More VideoBlasting So why didn't the TVout library reach any higher resolution than 160x100? The answer is simple. They did not use any hardware onchip to push the pixels out. If you use the SPI to push the pixel you will gain an immediate 1:1 in pixelspeed The SPI push out data at the CPU clock / 2. That is the maximum speed that the chip is capable of. On a 16MHz chip, that is an impressive 8mbps. That is ...
Read more

›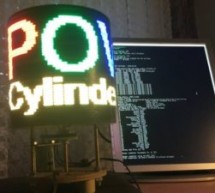 Introduction This is my first Arduino project. My work was inspired by several maker projects that created Persistence of Vision Displays [2,3,4]. Persistence of vision (POV) refers to the optical illusion whereby multiple discrete images blend into a single image in the human mind and believed to be the explanation for motion perception in cinema and animated films [1]. The projects [2,3,4] implement POV g ...
Read more

›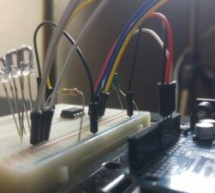 Today, we are going to build a circuit to program an ATtiny85 with our Arduino. Supplies We are going to need the following: Some jumper wires 1 x 10 micro farad capacitor The ATtiny85 Chip A breadboard An Arduino For Extra visual's (that are not really required) I'm going to add: 3 LED's 1 x 330 Ohm Resistor And some extra jumper cables Before we start with the circuit build, head over to the Arduino IDE. ...
Read more

›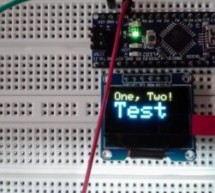 I like cheap electronics for playing. Cheap is good for budget conscious hobbyists and China is delivering lots of toys for playing - one being the inexpensive "mono" OLED displays.  The single-color displays often come in a dual-color implementation where the top row of pixels are one color and the remaining majority of the lower pixels are another color.  These dual-color units allow the title information ...
Read more

›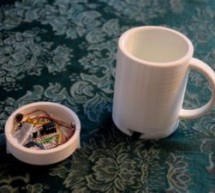 Picture the following: you have an nice white cup in front of you. It's filled to the brim with sparkling, cool, and refreshing H20. Your fingers curl around the nicely curved handle, and you bring the cup to your lips. Suddenly, a strong vibration assaults the nerves in your hand, causing you to drop the cup and spill water all over every surrounding surface, including yourself. This might not sound too fu ...
Read more

›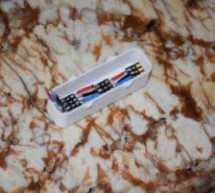 Stand out from the crowd with this unabashedly ostentatious excuse for a wallet. It's got plenty of space, RGB lights, and you can even put your name on it for added vanity. Interested? Keep reading! In the files section of this build you can find two things: a Fusion archive and some STL files. If you're just interested in printing a blank wallet without any text on it then download the STL files. Load the ...
Read more

›