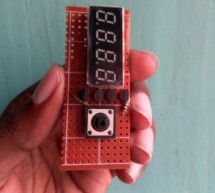 Introduction: Drinking enough water is very important for our health. Drinking more water can lead to clearer skin, better overall health, improved productivity and brain function, increased energy levels, and even weight loss. In our busy lives, it is really hard to remember to drink enough water. And most of the time we forget to drink enough water whether we are in the home, office or on-the-go. Around 7 ...
Read more

›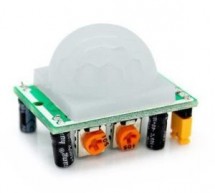 I have done several designs of digital clocks for Arduino using LEDs and LCD displays, but this one is more special because I added other features like alarm and motion sensor (PIR). Main features PIR (Presence Infrared Sensor) RTC (real-time clock) Alarm Temperature Humidity Water dew point Encoder to set the time and alarm Permanent memory for time and alarm data even when the power supply is off Main fun ...
Read more

›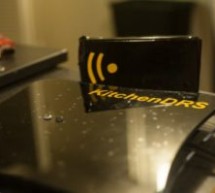 The Project This project is a combination of the many smart fridges and pantry's of the past. The idea is to combine all of them while also introducing Amazon's DRS system through Alexa and the Echo products as a bonus feature. The process will be simple: as you put the item you purchased via Amazon Prime Pantry in your fridge, it will be scanned by an RFID tag scanner. This will detect an assigned UID, whi ...
Read more

›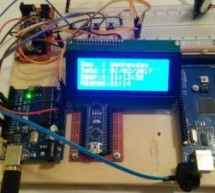 Story After designing the "Clock Set Date Time" and hearing the suggestion of ArduPic , I thought it would be a good idea and also useful, add a "wake-up alarm." A small change to the code and adding a few components: Here's "the Alarm Clock". Compared to the previous project, I added a buzzer Piezzo, a diode LED, a resistor of 220 ohms, a button and as said before, I listened to the suggestion of "ArduPic" ...
Read more

›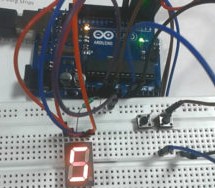 We all are familiar with dice and often played LUDO or SANP SIDI (Snake & Ladders) game by using dice. Dice is a squire type solid box which contains 6 different numbers on all of its sides. We throw dice on a surface to get a random number while playing the games. In this project we have tried to replicate it with a digital dice using arduino uno board. In place of throwing the dice, here we need to pr ...
Read more

›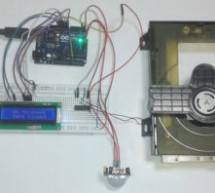 You must have seen automatic door openers in shopping malls and other commercial buildings. They open the door when someone comes near the entrance and close it after sometime. A number of technologies are available to make such kinds of systems like PIR sensors, Radar sensors,  Laser sensors, Infrared sensors, etc. In this arduino based project, we have tried to replicate the same system by using a PIR sen ...
Read more

›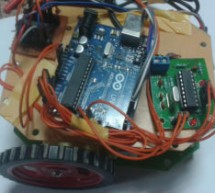 In present time almost all the people are familiar with robots. Robots play a very important role in human life. Robots are a machine which reduces the human efforts in heavy works in industries, building etc. and makes life easy. We are here with our next robot that is Mobile or DTMF Controlled Robot. DTMF controlled Robot runs over mobile DTMF technology that exists in Dial tone. DTMF stands for Dual Tone ...
Read more

›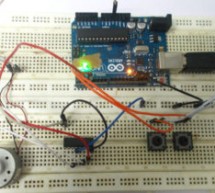 Here we are going to interface a DC motor to Arduino UNO and its speed is controlled. This is done by PWM (Pulse Width Modulation). This feature is enabled in UNO to get variable voltage over constant voltage. The method of PWM is explained here; consider a simple circuit as shown in figure. If the button is pressed if the figure, then the motor will start rotating and it will be in motion until the button ...
Read more

›
This LED DIMMER is an Arduino Uno based PWM (Pulse Width Modulation) circuit developed to get variable voltage over constant voltage. The method of PWM is explained below. Before we get start building a 1 Watt LED Dimmer circuit, first consider a simple circuit as shown in figure below. Now if the switch in the figure is closed continuously over a period of time then the bulb will continuously ON during tha ...
Read more

›
In ARDUINO we have 20 I/O pins, so we can program 20 pins of UNO to be used as either input or output. Although there are more pins on ATMEGA328P controller than on UNO, this is because while designing the board some pins are defaulted. Now for some applications we need more than 30 pins, say if we want to design a 5x5x5 LED CUBE, so for this we need 5x5+5=30pins. For such cases we use serial to parallel co ...
Read more

›
To establish a good communication between human world and machine world, display units play an important role. And so they are an important part of embedded systems. Display units - big or small, work on the same basic principle. Besides complex display units like graphic displays and 3D dispays, one must know working with simple displays like 16x1 and 16x2 units. The 16x1 display unit will have 16 characte ...
Read more

›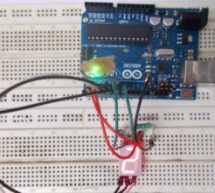 In this tutorial we are going to interface a seven segment display to ARDUINO UNO. The display counts from 0-9 and resets itself to zero. Before going further, let us first discuss about seven segment displays. A seven segment display got its name from the very fact that it got seven illuminating segments. Each of these segments has a LED (Light Emitting Diode), hence the lighting. The LEDs are so fabricate ...
Read more

›