Hi everybody, my name is Michiel and I am going to show you how to make an awesome looking laser engraver! A couple of months ago, there was a CNC challenge here at instructables, while checking out the entries of that contest, I saw some pretty cool engraving machines and I thought: "Why shouldn't I make my own?". And so I did, but I didn't want to make someone else's project, I wanted to make my own. And ...
Read more

›
What if you could cure blindness as easily as turning on the lights? That's what one doctor and his team are hoping to achieve with a clinical trial that uses a new form of retina implant to return sight to patients who have lost the ability to see. And for one of the six patients, it's been a pretty incredible journey. Rhian Lewis was just a toddler when her parents noticed she had trouble seeing in the da ...
Read more

›
A new "all-climate" lithium-ion battery can rapidly heat itself to overcome freezing temperatures with little sacrifice in energy storage capacity and power, researchers say. This advance might enable applications for which high-performance batteries are needed in extremely cold temperatures, such as electric cars in cold climates, high-altitude drones, and space exploration. EC Power is now creating all-cl ...
Read more

›
Among my recent electronics purchase spree was the amazing Teensy LC from PJRC. It has a nice ARM Cortex-M0+ processor, real hardware USB, and what's the nicest part, an Arduino add-on called Teensyduino which enables easy programming with Arduino, but with support for many of the hardware features. Now I started playing piano a while ago, and just a few weeks ago bought a Pianoteq license to send notes via ...
Read more

›
In this instructable, I'll show you how to make a simple arduino voltmeter. It can measure voltages in excess of 30VDC depending on how you configure it. The smaller the voltage range you want to measure, the more accurate that your meter will be. This project is going to be apart of a gauss meter that I am making to measure magnetic fields strength as well as magnetic field polarity. This instructable shou ...
Read more

›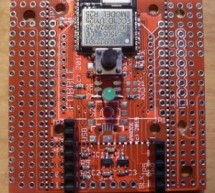 This week I have been working on another of my standard footprint 50mm x 50mm boards - it is a general purpose wireless module carrier board:-  Fobble.  That's a BLE Fob - for anyone who misses the pun. In the last few weeks there have been a number of applications arise - that could easily be addressed with an easy to use, generic wireless platform. These have included keyfob or pendant applications - requ ...
Read more

›
This a door lock built as fun project.It is quite easy to build and a fun way to learn and improve your knowledge of arduino.I tried to add a 16*2 display but there werent enough GPIO pins on arduino Uno.If You are interested in adding a display you would need an arduino Mega. Items Needed Arduino UNO Jumper wires Servo(or anyother component to open a door lock like a linear actuauator) Keypad(I used a 4*3 ...
Read more

›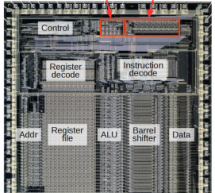 How can you count bits in hardware? In this article, I reverse-engineer the circuit used by the ARM1 processor to count the number of set bits in a 16-bit field, showing how individual transistors form multiplexers, which are combined into adders, and finally form the bit counter. The ARM1 is the ancestor of the processor in most cell phones, so you may have a descendent of this circuit in your pocket. ARM ...
Read more

›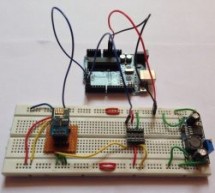 I learnt about Arduino 2 years ago.So I started playing around with simple stuff like LEDs,buttons,motors etc.Then I thought wouldn't it be cool to connect to do stuff like displaying the day's weather,stock prices ,train timings on an LCD display.I found that this could be done by sending and receiving data through the internet.So the solution was connecting to intenet. There began my search on how to conn ...
Read more

›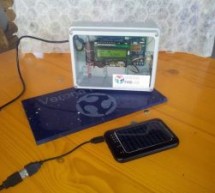 We are a group of makers who like to spend nights and weekends tinkering with tecnology here at Verona FabLab (Verona is a town in the North of Italy) and with this instructable we want to describe the project we've realized for Intel Maker contest. Our project is a portable device powered by an Intel Edison and equipped with a GPS receiver and a Geiger Tube, a sensor able to detect radioactivity. Our devic ...
Read more

›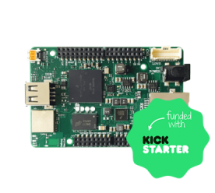 UDOO is a new development platform designed to be compatible with Arduino, Linux, Android and the Google 2012 SDK. Its designers state that their goal was to bring together the best of Arduino and the Raspberry Pi in one platform. You can in fact plug Arduino shields into the UDOO and they will function just as if they were connected to an Arduino. Out of the box, UDOO runs a version of UBUNTU Linux. You ca ...
Read more

›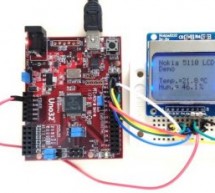 In Tutorial 4, we learnt interfacing an HD44780-based LCD to a chipKIT board for displaying alphanumeric output. Today, we will see how to connect a NOKIA 5110 graphical LCD (used in Nokia 5110 cell phones), which is a 84×48 pixel monochrome display of about 1.5″ diagonal in size. The display can be used for graphics, text, and bitmaps. Theory Nokia 5110 LCD was used in Nokia's popular 5110 and 3310 model c ...
Read more

›