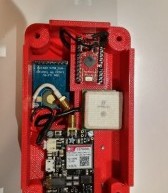 First a thank you to my Team members Sean Halloran and Gvozden Suvajlo, they came up with this idea and executed it, this project would not be possible without their ideas and skills. The GPS tracking device is composed of a micro controller, GPS module, cell module, and batteries all housed in a 3D printed case. The micro controller is programmed to communicate with both the cell module and GPS module. Whe ...
Read more

›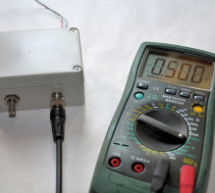 HD-1410 is quiet popular iambic keyer which is manufactured around 1970's by Heathkit. The original HD-1410 keyer is designed using 5 commonly available 74LS series TTL ICs and 8 transistors. Other than iambic operation it has an option to adjust sidetone frequency and support for (external) single-paddle key unit. In this project we redesign original HD-1410 electronic keyer with today's commonly available ...
Read more

›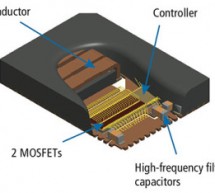 Such is the popularity of DC-to-DC voltage converters ("switching regulators")––due to their high efficiency across wide input- and output-voltage ranges––that chip makers have focused a lot of research dollars on squeezing the essential components of the devices into modules. These modules typically include pulse-width-modulation (PWM) controllers and switching elements in a single, compact package, easing ...
Read more

›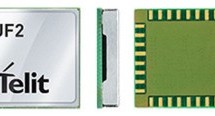 Positioning is an increasingly important part of an embedded design as more and more devices become mobile. Adding this capability into equipment that has to be smaller, lighter and have longer battery life is a major challenge. At the same time there are the challenges of implementing an effective wireless design with high performance and low power, while meeting the requirements of the project timeline an ...
Read more

›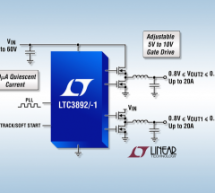 Features Wide VIN Range: 4.5V to 60V (65V Abs Max) Wide Output Voltage Range: 0.8V ≤ VOUT ≤ 99% • VIN Adjustable Gate Drive Level 5V to 10V (OPTI-DRIVE) No External Bootstrap Diodes Required Low Operating IQ: 29μA (One Channel On) Selectable Gate Drive UVLO Thresholds Out-of-Phase Operation Reduces Required Input Capacitance and Power Supply Induced Noise Phase-Lockable Frequency: 75kHz to 850kHz Selectable ...
Read more

›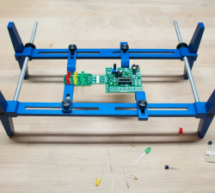 How many times have you had to set your soldering iron down because you couldn't hold the solder and component, while trying to keep the circuit board from moving around? PCB Rax is an easy to use, versatile circuit board holder for repair, prototyping, and assembly that can hold nearly any shape of circuit board. Sure there are other circuit board holders on the market, but they don't hold odd shaped board ...
Read more

›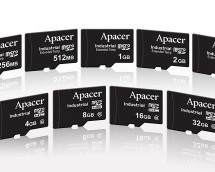 If we label a component as "industrial", we automatically expect that it brings something extra, that it has high reliability, is able to work in a wider range of operating temperatures or by one word, it simply "withstands more". We can confirm, that this also applies to memory cards and to SSD solutions in general. We often solve situation, when a customer asks us to recommend a suitable memory card becau ...
Read more

›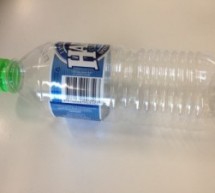 A new generation of chipless RFID tags could soon be set to replace standard product barcodes. A research team at Monash University led by Dr Nemai Karmakar, from the Department of Electrical and Computer Systems Engineering, have been developing chipless radio frequency identification (RFID) tags that can be printed directly onto products and packaging - including postal items, drugs and books – potentiall ...
Read more

›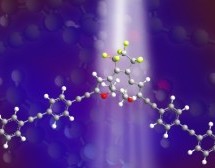 In the pursuit of ever-shrinking circuitry for nanotechnology electronics, increasingly smaller devices and components are being developed. Now researchers at the University of Konstanz and the Helmholtz-Zentrum Dresden-Rossendorf (HZDR) in Germany claim to have micro-miniaturized the humble electrical switch all the way down to molecule size and proven its operation for the very first time. Unable to flick ...
Read more

›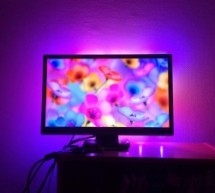 Ambient lighting is a technique that creates light effects around the television that correspond to the video content. It has been pioneered by Philips under the brand Ambilight. In this project we will create a basic FPGA-based ambient lighting system that reads the video signal over HDMI. This means we are not limited to computer output. We can use it together with DVD players, video game consoles, etc. D ...
Read more

›
The adjustable power supply is an absolutely vital piece of equipment for any electronics engineer or hobbyist. However in the vast majority of cases the needs presented towards a lab power supply are quite relaxed and usually within the low voltage range. With the modern component base the current consumption is usually also very low, and in a number of cases a large and fancy (and of course expensive) lab ...
Read more

›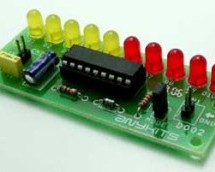 0-10V_Monitor_PIC This project is a 0-10V Voltage Monitor. Description 0-10V Volt monitor project has been designed around LM3914 IC, It is an easy and less expensive project which instantly visualizes voltage level. The project is based on the popular LM3194 IC from Texas instruments. Handy 0-10V DC Voltmeter can be used as a voltage tester. The LM3914 senses the voltage level at the input pin and drives t ...
Read more

›