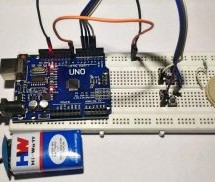 Arduino is an excellent way to simplify and speed up your microcontroller projects, thanks to its community of developers who have made almost everything look simple. There are lots of Arduino Projects out here for you to try and have fun. Some of your projects might need some sounds action to notify about something or just to impress the viewers. What if I told you that almost any theme songs that could be ...
Read more

›
Finally, PULP, goes multicore!  We are happy to launch our flagship RISC-V-based parallel-ultra low power open source system. Simply put, OPENPULP,  today's new kid in town, is the most advanced open-source release we have done so far, and a quantum leap ahead in terms of performance, efficiency and completeness. OPENPULP is an MCU on steroids: an ultra-low power "host" core coupled with a powerful compute ...
Read more

›
Creating an OTP fob compatible with Google Authenticator using an Espruino Pico Now that the Espruino Pico has (beta) HID support, it can pretend to be a keyboard or mouse (or other HID compatible device). This makes it possible to send characters to the active window on your Windows/Linux/Mac PC. I've cobbled together some code which turns the Pico into a device like a YubiKey. Press the button and get the ...
Read more

›
I've been in the electronics and computing industries ever since I graduated with my BSc from Sheffield Hallam University in the UK back in 1980. Since that time, I've designed all sorts of weird and wonderful things (some of which even worked), including my fair share of printed circuit boards (PCBs). I've also been associated with the Electronic Design Automation (EDA) industry since long before the name ...
Read more

›
During the last months, a new WS2812 alternative appeared on the market: The SK6812. I finally managed to get my hands on some of them to take a closer look. In most aspects these devices are basically clones of the WS2812. What is interesting however, is that the manufacturer came up with a couple of new variations of the stock 5050 RGB LED. As with many components from mainland china, it seems very diffic ...
Read more

›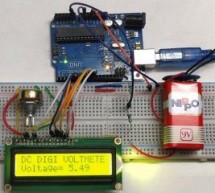 With a simple knowledge of Arduino and Voltage Divider Circuit, we can turn the Arduino into Digital Voltmeter and can measure the input voltage using Arduino and a 16x2 LCD display. Arduino has several analog input pins that connect to an Analog-to-Digital converter (ADC) inside the Arduino. The Arduino ADC is a ten-bit converter, means that the output value will range from 0 to 1023. We will obtain this v ...
Read more

›
Accelerating data rates, greater design complexity, standards requirements, and shorter cycle times put greater demand on design engineers to debug complex signal integrity issues as early as possible. Because today's serial data links operate at gigahertz transmission frequencies, a host of variables can affect the integrity of signals, including transmission-line effects, impedance mismatches, signal rout ...
Read more

›
A BIG HELLO! and welcome to Mixed Outputs first instructable. As most of my project involve electronics of some sort, having a good power supply is essential to be able to meet the demand of different power requirements. So I built me a bench-top power supply from an old ATX power supply Unit (PSU) that worked (and still works) great. However I've recently noticed some limitations with having a full fledged ...
Read more

›
Amazon's Dash Button, which I previously mentioned back in late May 2015, is the ultimate in consumer convenience (or, if you prefer, consumerism gone crazy). Simply press a button on the inconspicuous adhesive-backed device (perfect for attaching to your washer and dryer, refrigerator, counter, or cabinet), and your Amazon account is charged for the purchase while the corresponding product gets automatical ...
Read more

›
Step 1: Introduction In this Instructable I am going to attempt to show you how to put together a little project to use the Blynk app (optainable at http://www.blynk.cc/) to display the temperature remotely on a iOS or Android device. I came across an posting on my Google+ where somebody required some help with this. It looked interesting, so I decided to have a try myself. This is my first attempt to write ...
Read more

›
The Geiger–Müller counter is a relatively simple tool to measure ionizing radiation. To increase sensitivity, construction presented here contains three (instead of one as usually) soviet STS-5 lamps. This is important for measurements of natural sources of (low) radiation like soil, rocks (an article about my trip with Geiger–Müller counter on Śnieżka mountain). Principle of operation of a Geiger–Müller co ...
Read more

›
Have you worked with ready-made 8x8 LED matrix as displays? They come in various sizes and are quite interesting to work with. A large readily available size is around 60mm x 60mm. However, if you are looking for a much larger ready-made LED matrix, you may be out of luck. For this project, we will be building a single color large LED matrix display which is made up of a few large 8x8 LED matrix modules dai ...
Read more

›