Arduino shields are boards that will expand the functionalities of your Arduino. You just need to plug them over the top of the Arduino board. There are countless types of shields to do countless tasks. Here's a collection of 25 Arduino Shields. RECOMMENDED: Read our Home Automation using ESP8266 Course I've also wrote a list of 21 modules that you can buy for your Arduino for less than $2. 1. Ethernet Shie ...
Read more

›
Researchers at TU/e have developed a very tiny wireless temperature sensor that is powered in a very special way: from the radio waves that are part of the sensor's wireless network. This means that the sensor needs not even a single wire, nor a battery that would have to be replaced. The arrival of such sensors is an important development on route towards smart buildings, for instance. But the applications ...
Read more

›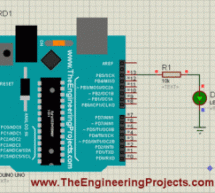 Hello friends, I hope all are fine and having fun with your projects. Today, I am going to share a very Simple Arduino LED Example in Proteus ISIS. I have designed a very basic example in Proteus in which I am going to blink single LED first using Arduino and then I am going to blink multiple LEDs in Proteus. When you start working on Arduino then Arduino LED example is the first example which you must try ...
Read more

›
In this project we are going to establish a wireless communication between two ESPs and send data from three sensors to an Excel spreadsheet. This tutorial shows a wireless weather station with data logging that you can implement in your home. Before you continue reading this project, please complete the following tutorials:  How to get started with the ESP8266 How to make two ESP8266 talk How to flash your ...
Read more

›
The goal of this project is to learn as much as possible about the Zsun WiFi card reader and run OpenWrt on it to turn it into an awesome wifi device. UPDATE 2017-09-12 Info about LEDE and USB gadget working UPDATE 2016-11-28 Adding some more info about the new PCB revision, thanks to Erik Dorner, who sent me his analysis a long time ago UPDATE 2016-04-23 The new PCB is missing a jumper on the RX serial lin ...
Read more

›
ESP8266 modules are great low cost stand alone controllers with built in Wi-Fi, and I already made a simple Blink instructable with ESP8266 NodeMCU module. The advantage of the ESP8266 over Arduino and other controllers is the builtin Wi-Fi. In this Instructable I will show you how with the help of Visuino you can use two ESP8266 modules to make a remote LCD Display for Temperature and Humidity DHT11 sensor ...
Read more

›
Features Dual Input Buck-Boost with Integrated PowerPath™ Manager Ultralow Start-Up Voltages: 850mV Start with No Backup Source, 300mV with a Backup Source Compatible with Primary or Rechargeable Backup Batteries Digitally Selectable VOUT and VSTORE Maximum Power Point Control Ultralow Quiescent Current: 1.6μA Regulated Output with VIN or VSTORE Above, Below or Equal to the Output Optional Backup Battery Tr ...
Read more

›
This project, builds on Wunderground weather forecast via the Internet. Specs: 1. 3 days weather forecast (Low&High temps, probably of precipitation, condition icons) 2. Current weather conditions (Current temp, feelslike temp, humidity, pressure) 3. Current wind directions & speed with analog gauge meter. 4. Indoor temperature with Dallas 18b20 Temperature sensor. 5. NTP time via Wunderground time ...
Read more

›
It has been a while since i posted my Tinker Rule which i made during college days. I received a few requests for the ready to etch pdf which helped me gauge if this seemed to be useful to people. The response was somewhat positive and so, i decided to put in some extra effort and make it handy, portable and manufacturable ! My initial scale was big and not handy, So, this one should be small and compact an ...
Read more

›
DC Output Solid State Relay 10Amps 60V DC (Optically Isolated Input) This project has been designed around TLP250/352 which is Opto-Coupler IGBT/MOSFET Gate Driver from Toshiba and Mosfet IRFP260 from IR, This relay consists of optically isolated gate driver and low impedance Mosfet. The combination of low resistance and high load current handling capabilities make this Relay suitable for a variety of switc ...
Read more

›
This Instructable documents how to create a simple heart rate monitor using Photoplethysmography with an IR phototransistor via transmissive absorption using the Arduino to process the pulsatile data and display live results via a TFT screen. To use the source code and create the necessary circuitry you will need a reasonable grasp of electronics, knowledge of the Arduino, a DMM and some patience. The desig ...
Read more

›
Update! Here is a post with the BOM for the project. Sometime ago I came across the Arducam Mini which is quite a nice camera module from UCTronics. It is a small PCB with a two megapixel OmniVision OV2640 sensor, an interchangeable lens and an FPGA to do the heavy lifting of image processing and JPEG encoding. Priced at around 24 Euros (lens included) you can easily buy a few without hurting your wallet an ...
Read more

›