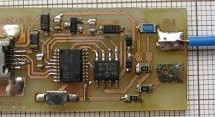 Extremely cheap low-speed PC/USB oscilloscope with STM32 (STM32F042) microcontroller - variant of miniscope v2e with input amplifier (MCP6S21 PGA) added. This is minor update, but input PGA fixes problem with input leakage of STM32F042 allowing increasing input impedance at the same time. Quick specification follows miniscope v2a-d idea: very simple device streaming data in real time to PC; DLL and GUI (Win ...
Read more

›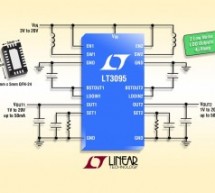 Features Generates Two Independent Low Noise Bias Supplies Boost Regulator: Wide Input Voltage Range: 3V to 20V Adjustable Switching Frequency: 450kHz to 2MHz Synchronizable to External Clock 950mA Power Switches Integrated Schottky Diodes Internal Frequency Compensation Linear Regulator: Wide Output Voltage Range: 1V to 20V SET Pin Reference Current: 50μA Low Noise: 4μVRMS (10Hz to 100kHz) High Frequency P ...
Read more

›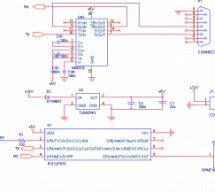 Although infrared communication might look like the technology of the 1990s, it is still present in a multitude of applications around us. Every time you press the button of a remote control, it is most likely it is using the IR (infrared) technology for transmitting data. The TV remote is the most common example. Air conditioning remote controls are another good one. 1. Introduction Although a remote contr ...
Read more

›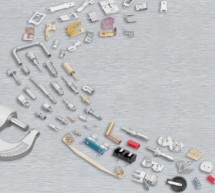 Success and reliability of a device depends not only on laboratory tests in "ideal conditions" but also on its mechanical construction. Elimination of mutual influence (EMC), optimal space usage, resistance to vibrations, easy assembly at production are one of factors why it´s worth to design mechanical part of a device into details. At production of prototypes or small series it may be not that important h ...
Read more

›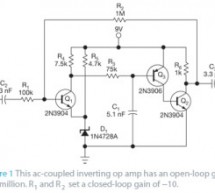 You can use three discrete transistors to build an operational amplifier with an open-loop gain greater than 1 million (Figure 1). You bias the output at approximately one-half the supply voltage using the combined voltage drops across zener diode D1, the emitter-base voltage of input transistor Q1, and the 1V drop across 1-MΩ feedback resistor R2. Resistor R3 and capacitor C1 form a compensation network th ...
Read more

›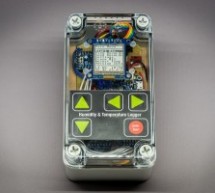 This week the beautiful projects from Boldport club arrived. Each of them comes with a nice box or bag which matches the individual project. All electronic components to assemble and solder the project are included, but you need some external power supply and jumper cables to bring some of the projects to life. In the following sections, I will show you some impressions of the assembled kits. My soldering s ...
Read more

›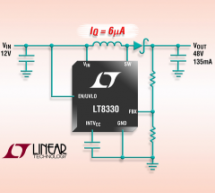 Features 3V to 40V Input Voltage Range Ultralow Quiescent Current and Low Ripple Burst Mode® Operation: IQ = 6μA 1A, 60V Power Switch Positive or Negative Output Voltage Programming with a Single Feedback Pin Fixed 2MHz Switching Frequency Accurate 1.6V EN/UVLO Pin Threshold Internal Compensation and Soft-Start Low Profile (1mm) ThinSOT™ Package Low Profile (0.75mm) 8-Lead (3mm × 2mm) DFN Package Descriptio ...
Read more

›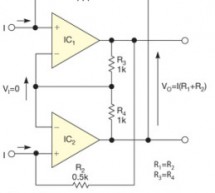 In most cases, you measure current by converting it into a proportional voltage and then measuring the voltage. Figure 1 shows two typical methods of making the conversion. In one method, you insert a probing resistor, RP, in series with the current path and use differential amplifier IC1 to measure the resulting voltage drop (Figure 1a). A second method is a widely known operational amplifier current-to-vo ...
Read more

›
So for some reason I bought 2 IKEA lamps at a flea market. As IKEA furniture has a long history of being hacker-friendly, I figured they shouldn't be an exception to the rule. My plan? Fit a few 10W RGB LEDs in there together with an ESP8266 to use the final result as an alarm clock.When you are dealing with a LED consuming that much current, you can't simply use a series resistor as the latter would need t ...
Read more

›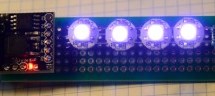 Update: Looks like somebody had this idea before me and made a product out of it. Just Google Fake TV. In fact, you can also buy a clone of this from AliExpress – again, just search for 'fake tv' in AliExpress. The Chinese versions can be had for about $12 in your hand and that includes a power supply (no doubt of somewhat dubious quality and safety standards). So what follows is a fun project, but it's eas ...
Read more

›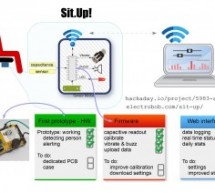 Sitting for long periods has become more common in today's jobs causing serious health issues. Unfortunately the plethora of activity trackers fail to address the issue: being rather active while sitting does not provide a good picture of the amount of time spent sitting. Sit.Up is a simple device that attaches to the chair and alerts the user by vibration if sitting for too long while also tracking the sit ...
Read more

›
A couple of months ago I picked up cheap WiFi-controlled LED bulbs (one among dozens of very similar devices), after seeing them at a friend's place.  This turned out to be an excuse to play with the ESP8266, which has inspired several hacks. I was overall very happy with these bulbs: decent Android and iOS apps and, compared to fancier solutions (e.g., Philips Hue or Belkin WeMo), they do not require any p ...
Read more

›