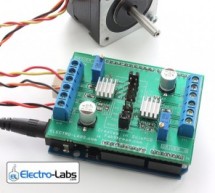 Stepper motors are brushless DC motors which can move in discrete steps thanks to the special coil arrangement inside. They are very popular in DIY and industry projects which require accurate mechanical movement control.  In this SoloPCB Designer project, we are building a dual stepper motor driver shield based on two Allegro A4988 ICs which can supply up to 35V and 2A and provide overcurrent and thermal p ...
Read more

›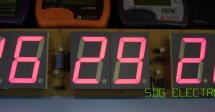 I recently found six 2.3″ red 7 segment displays in my collection which I purchased from Rapid Electronics when they were clearing out non-RoHS stock. Since I have no clock at my work bench I decided to construct one from some prototyping pad board, a Microchip PIC18F26K20 microcontroller and a Dallas DS32KHZ temperature compensated 32.768kHz crystal. The displays I used are SA23-12SRWA, which don't appear ...
Read more

›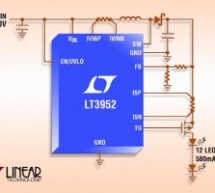 Features 4000:1 True Color PWM™ Dimming 4A, 60V Internal DMOS Switch Wide Input Voltage Range: 3V to 42V 0V to 60V Output Current Regulation with Monitor PMOS Switch Driver for PWM and Output Disconnect LED Short-Circuit Protection and SHORTLED Flag Internal Spread Spectrum Frequency Modulation Constant-Current and Constant-Voltage Regulation Input Current Limit and Monitor Adjustable Frequency: 200kHz to 3 ...
Read more

›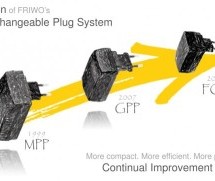 DoE 2016 is a known term naming stringent regulations established by DoE (department of energy USA) valid from year 2016. Among other things it brings a requirement for a standby power consumption of small adapters to be below 0.1W. In Europe we have here a limit of 0.5W for majority of small adapters, but even here can be expected toughening in the nearest years. That´s why German company Friwo as a long-t ...
Read more

›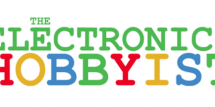 BELMONT, Calif.--(BUSINESS WIRE)--A comprehensive study of electronics hobbyists released today found that over 68% of hobbyists believe electronics as a hobby is essential to fueling the American economy. Over 1700 electronics hobbyists participated in the study, the Great American Electronics Hobbyist Census, conducted by electronic component distributor, Jameco Electronics. In 2014, electronic component ...
Read more

›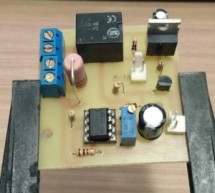 Hello, everyone! This instructable is about a universal short circuit protection that I've designed to use in bench power supplies. I've designed it to fit in most power supplies circuits. In order to this circuit fit in your bench power supply, you will need to do some calculations, but don't worry, I'll explain everything on the next steps. The circuit is really easy to understand. A resistor of low value ...
Read more

›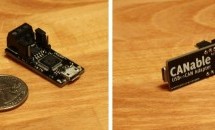 The CANable is a hardware clone of Eric Evenchick's CANtact project, an open-hardware USB to CAN adapter compatible with socketcan. I took his design and reworked the hardware to be a bit more suitable for my personal needs, with a screw terminal instead of a DB9 connector and a much smaller PCB. The design is open-source hardware and the schematic is nearly identical to CANtact except CANable uses the STM3 ...
Read more

›
In LESSON 18 you learned how to use an ultrasonic sensor to measure distance, and in LESSON 19 you learned how to connect an LCD to the arduino. In this lesson we will combine what you have learned to create a circuit for measuring distance, and displaying results on an LCD display. - See more at: http://www.toptechboy.com/arduino/lesson-20-arduino-lcd-project-for-measuring-distance-with-ultrasonic-sensor/# ...
Read more

›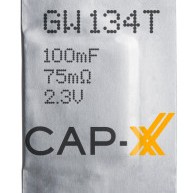 Eliminated materials and changed processes to reduce thickness and costs to below $1 Sydney, Australia – May 18, 2015 – CAP-XX (LSE:CPX), developer of flat supercapacitors for burst and back-up power in space-constrained electronic devices, today launched its Thinline series of single-cell supercapacitors. The world's thinnest at 0.6mm thick, and with prices starting at less than US$1 in large volumes, Thin ...
Read more

›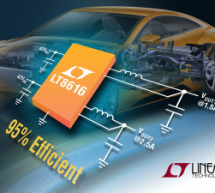 Features Wide Input Voltage Range: 3.4V to 42V 2.5A and 1.5A Buck Regulators with Separate Inputs Fast Minimum Switch On-Time: 35ns Ultralow Quiescent Current Burst Mode® Operation: 6.5μA IQ Regulating 12VIN to 5VOUT and 3.3VOUT Output Ripple < 15mV 180° Out of Phase Switching Adjustable and Synchronizable: 200kHz to 3MHz Accurate 1V Enable Pin Thresholds Internal Compensation Output Soft-Start and Track ...
Read more

›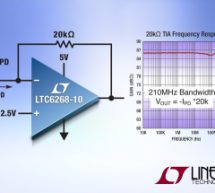 Features Gain Bandwidth Product: 4GHz Low Input Bias Current: ±3fA Typ. Room Temperature 4pA Max at 125°C Current Noise (100kHz): 7fA/√Hz Voltage Noise (1MHz): 4.0nV/√Hz Extremely Low CIN 0.45pF Rail-to-Rail Output AV ≥10 Slew Rate: +1500V/μs, –1000V/μs Supply Range: 3.1V to 5.25V Quiescent Current: 16.5mA Operating Temp Range: –40°C to 125°C Single in 8-Lead SO-8, 6-Lead TSOT-23 Packages Dual in 8-Lead MS8 ...
Read more

›
Overview Proportional-Integral-Derivative (PID) control is the most common control algorithm used in industry and has been universally accepted in industrial control. The popularity of PID controllers can be attributed partly to their robust performance in a wide range of operating conditions and partly to their functional simplicity, which allows engineers to operate them in a simple, straightforward manne ...
Read more

›