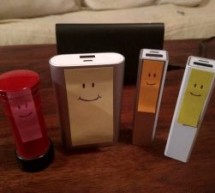 Smart traffic control for more livable cities. Story Abstract Traffic light control hasn't changed much in the last decades. Since IT changes everything, it's time to transform the traditional traffic control systems to smart ones that adapt and react to their environment. The story I was experimenting with Walabot, trying to make something with cats, because... Well because cats are fun. But then this happ ...
Read more

›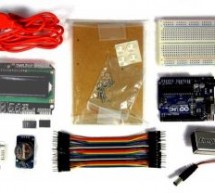 The power saving mode here is what sets this Instructable apart from other examples showing day of the week, month, day of the month, time, humidity, and temperature. It is this capability that allows this project to be run from a battery, without the requirement for a "wall wart". I had posted an earlier Instructable, Humidity and Temperature LCD Display with Power Saving Mode: Minimal parts, Fun, Quick, a ...
Read more

›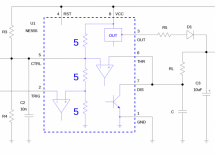 If you have a load with a variable or poorly specified resistance and want to regulate the power applied to it (a heater for example), merely controlling the voltage or current will not work, as in both cases the power P = I2R = V2/R depends on R. Instead, let us generate pulses with constant energy Epulse, independent of the resistance of the load RL. Then by changing the frequency f of the pulses we can c ...
Read more

›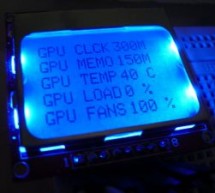 Hi guys! Today I will show you how create an external hardware monitor with any Arduino board(in my case a pro micro board), a Nokia 5110 LCD and some VB programming! Let's get started! ps. Sorry for my bad english Step 1: What Is the Aim? The aim of this project is for monitoring pc hardware while you're in game. There are other many system to do that, like afterburner ingame overlay, but for me is too cum ...
Read more

›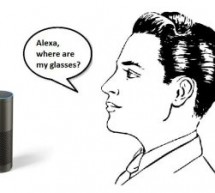 Use Amazon Alexa Devices and Sensors to find where objects are in home, or your office. Story A ton of inanimate objects are part of our life, and we add them day after day. We spend inordinate amount of time searching for these in times of need. These inanimate objects can be categorized by frequency of use as follows 1) Uses on a daily basis Glasses, keys, phones, cables, chargers, laptops, wallets, purse ...
Read more

›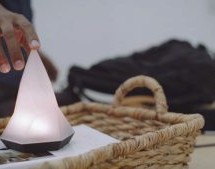 About Peak co-founders Dan Makoski and David Khavari stumbled upon a surprisingly powerful idea: a smart lamp that helps people form better habits in small, progressive steps. How People Use Peak In addition to being a beautiful lamp, Peak can be used for forming many positive habits, such as: Working out, running, and other fitness goals Spending quality time with family and friends Practicing a musical in ...
Read more

›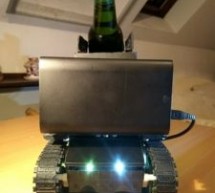 The tank that will follow you and serve you beer. Coolness is over 9000! Story Abstract There are things that deep inside every man wants to have. Combining beer and tanks is one of these things! This project will be about this thing, a voice controlled tank that delivers beer to you with an autonomous "follow me" function or with an RC control. Let's build the beer tank of our dreams! Chassis We need a goo ...
Read more

›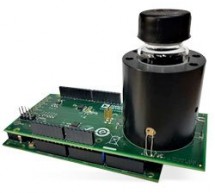 Analog Devices EVAL-CN0409-ARDZ Arduino Shield uses the ADPD105 photometric front end and a network of 860nm Infrared emitters and silicon PIN photodiodes to produce a water turbidity measurement system. The system can measure low to high water turbidity levels ranging from 0FTU to 1000FTU. The IR LED, and photodiode network is managed in such a way that it can carry two of the most recognised turbidity mea ...
Read more

›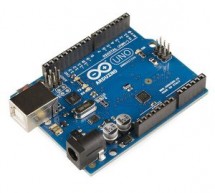 This instructable shows how to control some servomotors remotely in a wi-fi network, using an ordinary internet browser (Firefox, for instance). This might be used in several applications: toys, robots, drones, camera pan/tilt, etc. The motors were attached to an Arduino Uno, which connects the wi-fi network through a ESP-8266 module. The control interface was designed with HTML and jQuery. Miguel's tutoria ...
Read more

›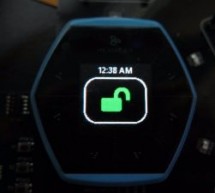 Reinventing the home security system with the IoT method using sensors connected to a Node.JS server. Story The Idea Modern security systems have several disadvantages, some of which are: As a user to you can't customize the system the way you want The panel is in a centralized location, if you can't get to it and you don't have a keyfob handy, there is no way to trigger the alarm or arm it There may be vul ...
Read more

›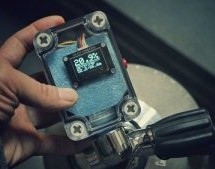 For Hackaday readers who don't spend their free time underwater, nitrox is a blend of nitrogen and oxygen that's popular with scuba divers. Compared to atmospheric air, nitrox has a higher concentration of oxygen; which not only allows divers to spend more time underwater but also reduces the risk of decompression sickness. Of course when fiddling with the ratio of gases you breathe there's a not inconseque ...
Read more

›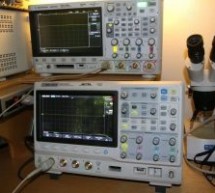 I've had a Siglent SDS1102CML two channel 100 MHz bench scope here for the last two years. I demand a lot from my test equipment so had low expectations when it arrived. After all, how good can a $359 unit be? Turns out, quite a good for the price. I reviewed it here. But the screen is smaller than most modern pro scopes with lower resolution than many would like. And 100 MHz just doesn't cut it for a lot o ...
Read more

›