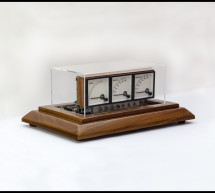 This clock is based largely on Alan's code and circuit with a few changes. I purchased a kit of parts for the main board from Alan's site. I have used three voltmeters and mounted them on a wooden plinth with a clear Perspex cover to give the clock an industrial look. I have modified Alan's code to run on PICBasic Pro version 3. I have also added the following. Switched display On and Off (keeping battery b ...
Read more

›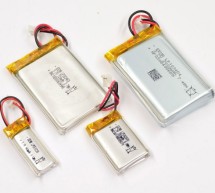 Perhaps the most frequently used rechargeable batteries on the market nowadays - Lithium-Polymer (Li-Po) can be found also in our offer. From the beginning of electronics, the world searches for an "ideal" rechargeable battery. So far such a battery doesn´t exist (maybe supercapacitors in the future), but Li-Po (Li-Pol) cells are quite near to an ideal in some aspects. Very low self-discharge (approx. 5% / ...
Read more

›
ElecFreaks will launch a multi-axis unmanned helicopter series: ELF. As the name suggests, this series will be surprisingly tiny. Aimed to design a very compact, portable, able to fly in any place multi-axis helicopter, we will use smart phones app (must support Bluetooth 4.0) instead of remote control. Smaller also means more security and therefore would be more suitable for various occasions and people. I ...
Read more

›
Farnell and Analog Devices are to co-host a webcast entitled 'Simplifying System Designs Requiring Isolated Data and Isolated Power' on Nov 30 4-5 pm CET.  To register    "Our webcast series is just one of the many ways Farnell is seeking to support customers in producing world-class designs," said Richard Curtin, Farnell's head of semiconductors, passives and optoelectronics products. During the hour-long ...
Read more

›
Since when white light emitting high brightness LED are available, the handover from traditional lighting bulbs to the solid-state lighting has become irreversible: LEDs have an efficiency (expressed in lumens/watt) higher than that of almost all the traditional lamps (except, at the moment, the large sodium vapor lamps used for street lighting, unusable in closed environments for the high power required an ...
Read more

›
I was asked by a friend a while back to create a timer to turn a pool fill value off automatically.  Apparently he would turn the fill value on and walk away only to return to water overflowing everywhere.  He gave me a few parameters to follow: 10 minute timeout, easy to use, status lights, and reliable. He also said that it would be controlling a standard sprinkler valve and 24VAC would be provided.  With ...
Read more

›
[Note: if you are using smartphone or portable device to browser this post, some math formula might not appear properly. To see the math in correct form, scroll down to the bottom and click "View web version"]   After finishing the mini CNC laser engraver, the next thing in my mind is 3D printer. One of the most important part of a 3D printer is the plastic filament extruder, composed by a cold end constant ...
Read more

›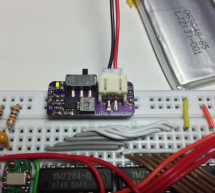 LiPo Booster is a breadboard-friendly boost converter board based on the TPS61230 IC from Texus Instrument. It has an output voltage of 5V, and is designed to be used with a single cell LiPo battery. For normal and half size breadboards, the LiPo Booster can be plugged into the power rails without blocking the vertical 5-pin strips. It can also be used with a tiny breadboard or breadboard of any sizes as sh ...
Read more

›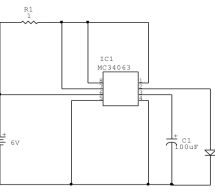 This flasher/beacon circuit can be employed as a distress signal on highways, a direction pointer for parking lots, hospitals, and hotels, etc. The circuit uses a power LED, and provides more light than a typical incandescent lamp flasher. Use of a 6V or 12V SLA lantern battery makes the circuit portable. The heart of the circuit is an MC34063 monolithic switching regulator subsystem, originally intended fo ...
Read more

›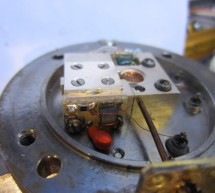 As I mentioned in my previous posting, there was an issue with my Wavetek 907 microwave frequency generator. While everything was fine during my initial testing, the frequency display is now stuck with an out-of-range display and the adjustable frequency range is limited to between around 6.9 Ghz to 7.9 Ghz (instead of all the way up to 11 Ghz). My initial suspicion was that the PTC heater inside the YIG-Gu ...
Read more

›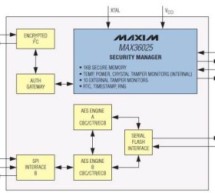 Description DeepCover® embedded security solutions cloak sensitive data under multiple layers of advanced physical security to provide the most secure key storage possible. The DeepCover Security Manager (DS3660) is a security manager with 1024 bytes of SRAM for the secure storage of sensitive data and the physical tamper-sensing response functions required in cryptographic processors and data security equi ...
Read more

›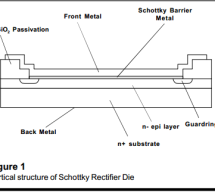 App note(PDF) on schottky rectifiers from Microsemi. Schottky rectifiers have been used for over 25 years in the power supply industry. The primary advantages are very low forward voltage drop and switching speed that approach zero time making them ideal for output stages. This latter feature has also stimulated their additional use in very high frequency applications including very low power involving sign ...
Read more

›