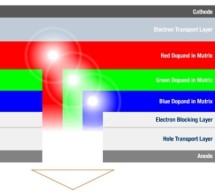 Organic light-emitting diodes – OLEDs – emit light when a current flows through them. Unlike conventional LEDs, OLEDs are made from layers of plastic and other organic (carbon-based) materials. Examples are already in mass production for displays in MP3 players and phones. Sheets of OLED material are proposed to replace light bulbs and fluorescent tubes for house and office lighting. There are several reaso ...
Read more

›
I love Ardunio. I love the things that people make with them and I love to make my own. Last August I published an Instructable on how to make your own postage stamp sized Arduino compatible. This Instructable will show you how to to make a rugged, versatile Ardunio compatible with basic components on board. It will be more suitable for deployment in the real world than a bread board attached to a developme ...
Read more

›
Description The LTC®6990 is a precision silicon oscillator with a programmable frequency range of 488Hz to 2MHz. It can be used as a fixed-frequency or voltage-controlled oscillator (VCO). The LTC6990 is part of the TimerBlox® family of versatile silicon timing devices. A single resistor, RSET, programs the LTC6990's internal master oscillator frequency. The output frequency is determined by this master osc ...
Read more

›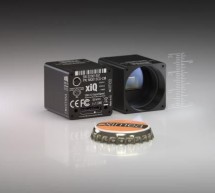 Nanoelectronics research center imec and XIMEA, a progressive creator of machine vision systems, today announced their partnership in integrating imec's Hyperspectral Imaging (HSI) sensors together with XIMEA's xiQ USB3.0 camera product line. Exceptional interoperability between camera and sensor's technology streamlined the success of this integration. "Combining imec's hyperspectral sensor with XIMEA's im ...
Read more

›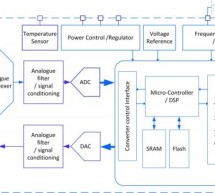 Traditionally, asic developments are thought to be the domain of high volume applications. Whilst these designs grab the headlines there are many designs that are successfully undertaken for smaller volume product markets. An example of this is the mixed signal asic for industrial controllers. These controllers cover many industries and come in many forms. The basic premise, though, is for a system to monit ...
Read more

›
Description The ISLA118P50 is a low-power, high-performance, 500MSPS analog-to-digital converter designed with Intersil's proprietary FemtoCharge™ technology on a standard CMOS process. The ISLA118P50 is part of a pin-compatible portfolio of 8, 10 and 12-bit A/Ds. This device is an upgrade of the KAD551XP-50 product family and is pin similar. The device utilizes two time-interleaved 250MSPS unit A/Ds to ach ...
Read more

›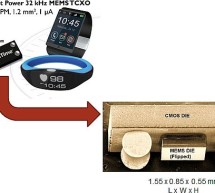 I recently spoke to Piyush Sevalia, Executive Vice President, Marketing at SiTime Corporation,about their newly introduced 32 kHz TCXO (temperature compensated oscillator) which they claim to be the smallest, lowest power device in the industry. With its tiny footprint and ultra-low power consumption, the SiT1552 MEMS TCXO decreases the size and increases battery life of wearable electronics and Internet of ...
Read more

›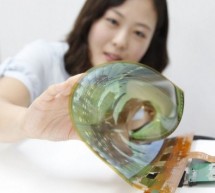 After unveiling the world's first flexible OLED TV at CES earlier this year, LG has gone a step further with the unveiling of two new 18-inch OLED panels: the first is a transparent display, while the second can be rolled up. Although both fall short of the 77-inch flexible TV on show at CES, the company says the new panels prove that it has the technology to bring rollable TVs with screens in excess of 50 ...
Read more

›
Abstract: This article shows how to produce negative output voltages from positive input voltages using the MAX17501 and MAX17502 synchronous step-down converters. Introduction Industrial control equipment such as programmable logic controllers, I/O modules, mass flow controllers, and various other sensors and supporting systems use analog components like amplifiers and multiplexers that operate on negative ...
Read more

›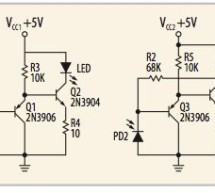 Introduction Analog isolation is still widely used in motor drives, power monitoring, etc whereby applications typically use inexpensive analog voltage control for speed, intensity or other adjustments. The HCNR201/200 analog optocoupler is commonly added to isolate the analog signal in the front end module of an application circuitry. The optocoupler will be placed between the analog input and the A/D conv ...
Read more

›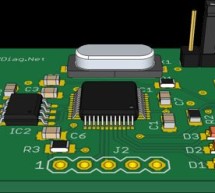 This project started out from a need to build a simple device for monitoring the CAN bus. I choose the NUC140LC1CN 32K Cortex-M0 microprocessor from Nuvoton for major reason - it has both USB and CAN peripherals. Features Simple design - Compatible with the LAWICEL CANUSB protocol - Exposing itself as USB FTDI device - Supporting CAN 2.0A 11-bit and CAN 2.0B 29-bit frames - Has internal FIFO CAN message buf ...
Read more

›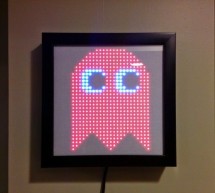 Hello, I've now reworked the AnimatedGIF and Light Appliance sketches into hopefully their final form and I will stop spamming this list so often. If you go to craigandheather.net/misc you will find the following files: Lindley_Animated_GIFs_Collection.zip which is a collection of GIFs used by both AnimatedGIF and LightAppliance sketches. Lindley_AnimatedGIFS_V1.2.zip which is the new version of the Animate ...
Read more

›