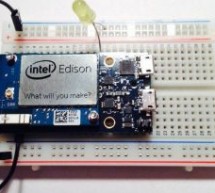 Millions of farmers in the world each year face loss of their crop. Its mainly due to crop disease or environmental problems like nature of soil (pH), poor quality of air, and excessive or very low moisture in soil. To get cure from these problems, farmers need to know the fertilizer according to the condition of the soil and also the amount of water needed everyday for his crop with respect to the temperat ...
Read more

›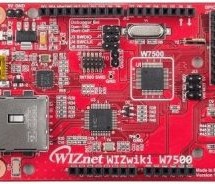 Introduction On 31 August 2015 I got the new WIZnet platform board, the WIZwiki-W7500 that is based on a Cortex-M0 cpu at 48MHz with 128 kBytes of flash memory and 48 kBytes of RAM shared with the hardwired TCP/IP core. The RAM amount used by the TCP/IP core can be upto 32 kBytes leaving the rest 16 kBytes to the user (32 + 16 = 48 kBytes of RAM). The W7500 is a 3.3V device but according to the WIZnet the b ...
Read more

›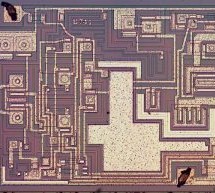 The 741 op amp is one of the most famous and popular ICs[1] with hundreds of millions sold since its invention in 1968 by famous IC designer Dave Fullagar. In this article, I look at the silicon die for the 741, discuss how it works, and explain how circuits are built from silicon. I started with a 741 op amp that was packaged in a metal can (above). Cutting the top off with a hacksaw reveals the tiny silic ...
Read more

›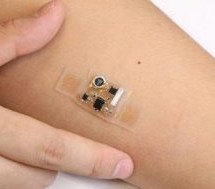 Determining the state of our health has always been a matter of finding a way to monitor and measure the body's most basic functions. Before instrumentation, visual indicators were used that allowed us to know, for example, what our body temperature should be, what a healthy pulse is, and what an acceptable respiration rate is. Today, with an aging population more people now need some sort of portable healt ...
Read more

›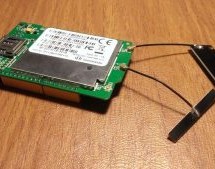 If you work in a company that has a website, you know how important it is that the website always be up and running. That's why you constantly see "99.99999% reliability!" all over the fancy server hosting sites. A website can't make money if the system is down, so knowing when that happens and reacting quickly is super important. In this Instructable, we will use the LinkIT ONE board to make an alert syste ...
Read more

›
This tutorial will explain how to build a machine for biofeedback. But first a bit of theory. What is biofeedback? [Font: Wikipedia | https://en.wikipedia.org/wiki/Biofeedback] Biofeedback is the process of gaining greater awareness of many physiological functions primarily using instruments that provide information on the activity of those same systems, with a goal of being able to manipulate them at will. ...
Read more

›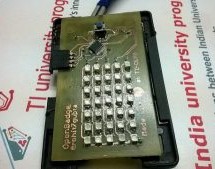 Badges are amazing things. Better when you make your own. I was about to attend the 1st MakerFest at NID, Ahmedabad and thought of taking something unique to the event. Badge was a great option and suited the maker theme of the event. So, sitting down with a pen and paper i drew what it would look like and came up something that could be retro-fitted to a usual boring office badge and would have a LED array ...
Read more

›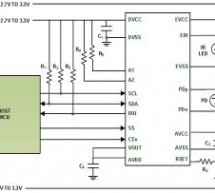 Although Intersil's ISL29501 time-of-flight (ToF) signal processing IC doesn't have anything to do with the lighting applications I normally cover, I felt compelled to bring it to your attention because it's one of the most innovative LED applications I've seen this year. The device requires little more than an external emitter (LED or laser) and a photodiode to implement a complete object detection and dis ...
Read more

›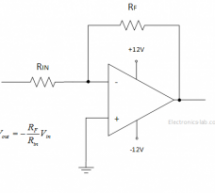 Operational amplifiers (OPAMPs) are high performance differential amplifiers in integrated form that can be used in many different ways. A typical OPAMP has a non-inverting input, an inverting input, two dc power pins, one output pin and a few other fine-tuning pins. On the following image you can see a typical diagram of an operational amplifier. The basic OPAMP operation is simple. If the voltage applied ...
Read more

›
Why Launch A Weather Balloon? There are a lot of reasons to put together a weather balloon launch. Its a great project for a STEM /STEAM class, it requires planning, electronics and programming, and teamwork. It has a lot of great classroom applications, giving a tangible demo of aerodynamics, physics, meteorology, geology, and more. Additionally its a great way to get amateur radio into the classroom and g ...
Read more

›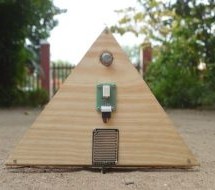 Ever wanted to monitor your city's Current Weather Conditions, Carbon Footprint, Noise and Pollution levels? Do you want be a Climate Change Crusader or set-up your own Tweeting Weather Station and share your local weather conditions with the world? Meet Tweeting Weather IoT Station aka TWIST - a DIY, Open-Source Environmental Monitoring and Meteorological Data Acquisition Platform. The purpose of TWIST is ...
Read more

›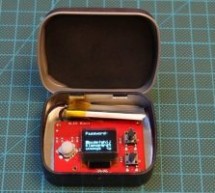 Hi, I'm Daniel, a professional software developer. This is my very first instructable, and I'm über-excited. I hope you'll like. :) With this instructable, I try to solve a problem everyone has: Passwords. Accounts. Logins. All the stuff you need to get into your favourite social media site, shopping site, blog or forum (they still exist, huh?). Now, there are several ways to control your accounts: Use alwa ...
Read more

›