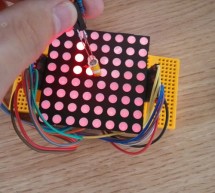 In the current market where capacitive touch screens, resistive touch screens, TFT displays are flooding, DIY enthusiasts have been rarely used dot matrix screens. Here we use 5mm 8 * 8 dot matrix screen and phototransistor to achieve a pen write function. Sounds fun? But how to specifically make it? Can we achieve a larger area pen write? Just read on to know. I. Target To realize pen write on dot matrix. ...
Read more

›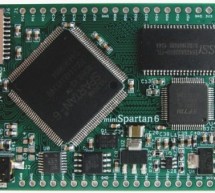 Comes with all the hardware and software you need to quickly get your FPGA project going. Now you can focus on the real engineering. Stretch Goal: $30,000 Get Creative with the miniSpartan6+ : A Competition with $2500+ in cash prizes!!! If we reach our $30,000 stretch goal, we will be able to hold a competition. We will ask backers who have a miniSpartan6+ to demonstrate a creative, innovative application. ...
Read more

›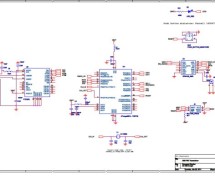 Over time I have tried to extend my home automation system and about a year ago I have bought an Current Cost energy monitor, this was after i have tried a number of others and i wasn't impressed with their performance. Now, the Current Cost was a winner for me mostly of the fact that it is quite easy to connect it to my home automation system, however there is one small problem which is quite annoying. The ...
Read more

›
Description: Mini Maglite LED Conversion Kit Assembly Time: 2 hours Skill Level: Intermediate Designer: Waltx Flashlights are always useful especially if you like to camp like me. Out in the woods, when you are away from your iPhone flashlight, a Mini Maglite comes in real handy. Now, what if you hate its yellow color and carrying extra batteries? What if you want a white color for your flashlight and a lon ...
Read more

›
Already at the age of 12 I was dreaming of making a machine which could make things! A machine which would give me the opportunity to create products for in and around the house. Two years later I stumbled ont the words 'Computer Numerical Control' or more specifically the CNC milling machine. After I found out people were able to build one themselves in their own shed, I knew it! I had to build one, I year ...
Read more

›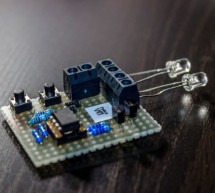 Hello, in this project I want to show you how to build a multi functional Police Light with a Attiny25/45/85 . It will have serval animations , which can be changed with a button on the circuit board, it has 2 channels, which can be controlled with PWM. That allows us to add serval animations or police light flashing sequences. The maximum rated current per channel is 500mA, that allowes us to control high ...
Read more

›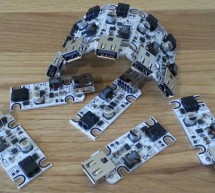 Introduction Having to use a Raspberry Pi and other USB Devices in an electronics production environment where 5V isn't standard, I have noticed a lack of power supplies capable of fitting in. A unit had to be designed to fit into systems where 12V & 24V are the norm or where batteries / solar panels etc are the only supply method available. Development Using only high performance parts, a solution was ...
Read more

›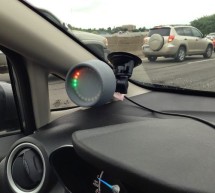 An Arduino, some addressable LED's, a bluetooth module, code and a 3D printer come together to make blueShift - An OpenXC LED Tachometer.  blueShift is so named for the Bluetooth protocol used for data communication, and the use of a tachometer to indicate when to shift your car.  It may be amusing to note that the driver and passengers traveling in this car would observe Blueshift when peering thru the win ...
Read more

›
As a break from the pick and place posts, in this article I'd like to aggregate my research about laser cutters and my experience importing a chinese laser cutter. There's a wealth of knowledge scattered around the web, and this article won't meet everyone's search criteria, but hopefully this will be a resourceful stop for those that are in the search for a similar machine on a budget that can achieve the ...
Read more

›
Digital tachometer using arduino plus speed control. Tachometer is a device used for measuring the number of revolutions of an object in a given interval of time. Usually it is expressed in revolutions per minute or RPM. Earlier tachometers purely mechanical where the revolution is transferred to the tachometer through mechanical coupling (cable or shaft) , the rpm is determined using a gear mechanism and i ...
Read more

›
Overview This project started out from a need build a simple device for monitoring the CAN bus. I chose the NUC140LC1CN 32K Cortex-M0 microprocessor from Nuvoton for major reason - it has both USB and CAN peripherals. Features Simple design Compatible with the LAWICEL CANUSB protocol Exposing itself as USB FTDI device Supporting CAN 2.0A 11-bit and CAN 2.0B 29-bit frames Has internal FIFO CAN message buffer ...
Read more

›
Whether engineer, hobbyist, or maker, we've happily watched as chipmakers and third parties alike have come to their senses in recent years and cooked up a smorgasbord (smorgasboard?) of low-cost microcontroller devboards – in some cases, very low cost, like TI's $4.30 MSP430 board. More recently, we've seen ARM Cortex kits for $10-$50, the flowering of the whole Arduino ecosystem, and of course, the Raspbe ...
Read more

›