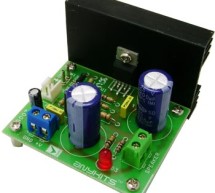 Project is built around TDA2006 PENTAWATT package. TDA2006 provide high output current and has very low harmonic cross-over distortion. Further the device incorporate- rates an original (and patented) short circuit protection system comprising an arrangement for automatically limiting the dissipated power so as to keep the working point of the output transistors within their safe operating area. A conventio ...
Read more

›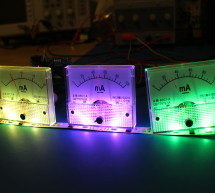 I've seen a few meter clocks in my travels of the web, and I love the idea. A few days ago, I decided that I must have one of my own. Such began the "How to do it" pondering cycle. I had seen builds where the face plate of the meter is replaced. This works, but I wanted to try and find a way to do it without modifying the meter, if possible. After some more ponderation, I came up with what I think is a serv ...
Read more

›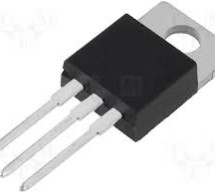 RF Micro Devices has released a 75W GaN RF unmatched power transistor, claimed to deliver superior performance against competing GaAs and Si transistors. Dubbed RF3932, it follows the recent release of the 140W RF3934, and operates from dc to 3GHz with peak efficiency over 65%. "It incorporates simple matching networks external to the package, providing wideband gain and power performance advantages in a si ...
Read more

›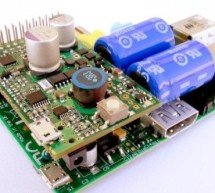 The Juice4Halt module is a supercapacitor based energy storage. It contains two independent DC/DC converters. The first one is a bidirectional step-up/step-down converter working as the interface between the stable 5V supply rail and the supercapacitor. During charging the converter works in step-down mode and transports energy from the external power supply to the supercapacitor. In case of a power failure ...
Read more

›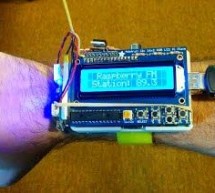 Parts List Raspberry Pi Model B Adafruit LCD Keypad Pi Plate Adafruit PowerBoost 500 3.7v 1200mAh Lipo Battery Wrist Mount USB Sound Card 3.5mm Microphone Software NOOBS\Raspbian PiFM Adafruit LCD Keypad Library RaspWristRadio Python Script For more detail: RaspWristRadio – Wearable Personal FM Radio Station ...
Read more

›
Continuing from my previous blog post about Hi-Link HLK-RM04 module, I have finally received the ESP8266 Serial-to-WiFi module that I've been waiting for. As I said previously, with the popularity of IoT devices, there is an increasing demand for low-cost and easy-to-use WiFi modules. ESP8266 is a new player in this field: it's tiny (25mm x 15mm), with simple pin connections (standard 2×4 pin headers), and ...
Read more

›
NXP Semiconductors has introduced a mosfet in a SO8 package with a low RDSon of just 1.4mohm at 4.5V. The Power-SO8 package is qualified to 175 deg C According to the supplier, the device is the first in the NextPower LFPAK series of 25V and 30V mosfets which will be expanded to a full portfolio in the coming months. "The low RDSon significantly reduces losses; this in turn enables increased energy efficien ...
Read more

›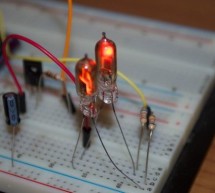 I'm starting to source parts for my nixie tube experiments. I'm in the very early stages of prototyping a nixie clock. My Breakout Boards were a bust, but that's not stopping me from pushing on with the nixie-tinkering. When it comes to resistors, it's so much cheaper to buy in bulk. It'll take me a lifetime to use up these 3.3K, 4.7K, 27K, and 33K resistors, but when you buy a bag of 100 from Digi-Key, the ...
Read more

›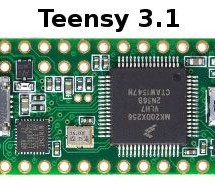 Arduino and Raspberry Pi are great, well-utilized DIY boards for hacking just about anything you want to design. But if you're looking for an alternate hacker board, here are seven that Steve Nelson, Freescale's director of ecosystem and marketing programs, presented at this week's Designers of Things (DoT) conference. With some starting below the $20 mark, these Freescale-enabled, alternative hacker boards ...
Read more

›
The ADA4096-2 dual and ADA4096-4 quad operational amplifiers feature micropower operation and rail-to-rail input and output ranges. The extremely low power requirements and guaranteed operation from 3 V to 30 V make these amplifiers perfectly suited to monitor battery usage and to control battery charging. Their dynamic performance, including 27 nV/√Hz voltage noise density, recommends them for battery-powe ...
Read more

›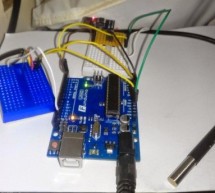 recently started brewing beer at home with a group of friends and one of the things that quickly came to light, is that maintaining a steady fermention temperature can be the key to a good brew. We have a stick on thermometer on our fermenter buckets which we can use for reading the temperature of the beer, locally, but I was wondering if there was a system I could hook up, so that all of us could check in ...
Read more

›
The IP4786CZ32 is designed to protect High-Definition Multimedia Interface (HDMI) transmitter host interfaces. It includes HDMI 5 V overcurrent / overvoltage protection, Data Display Channel (DDC) buffering and decoupling, hot plug detect, backdrive protection, Consumer Electronic Control (CEC) buffering and decoupling, and ±8 kV contact ElectroStatic Discharge (ESD) protection for all I/Os in accordance wi ...
Read more

›