Welcome to another project in which we will build a small Robot which can walk and dance. The project aims in teaching you how to make small hobby robots using Arduino and how to program your Servo motors for such applications. At the end of the project you will be able to make this walking and dancing robot that takes command from an Android Mobile Phone to perform some pre-defined actions. You can also us ...
Read more

›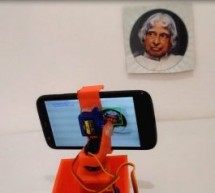 Ever wanted to build a Face Tracking Robotic Arm or Robot by simply using Arduino and not any other programming like OpenCV, visual basics C# etc? Then read along, in this project we are going to implement face detection by blending in the power of Arduino and Android. In this project, the mobile camera will move along with your face with the help of servos. The advantage of using the Android Mobile Phone h ...
Read more

›
This remote controlled car can be moved around using practically any kind of remote such as TV,AC etc. It makes use of the fact that the remote emits IR(infrared). This property is made use of by using an IR receiver,which is a very cheap sensor. In this instructable you will learn how to Interface IR receiver to Arduino. Interface 2 motors to Arduino. Combine the above 2 setups. Note:This remote controlled ...
Read more

›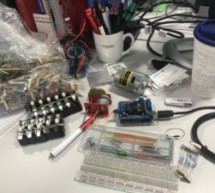 I've been meaning to put some content on here for a while and recently I got around to getting an Uno and motor shield. Given I also have access to a 3d printer and have a shedload of microswitches, semis and other goodies knocking around - Robocar is an obvious choice! I've had a few Arduino's in the past but have always used them as an ISP to write to AVR instead of just embracing the Arduino eco-system. ...
Read more

›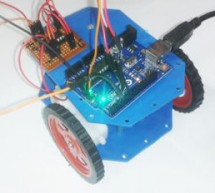 After designing this line follower robot using arduino uno, I have developed this computer controlled robot. It can be controlled via the computer and we can use specific keyboard keys to move it. It runs over serial communication which we have already discussed in our previous project - PC Controlled Home Automation. Components Required Arduino UNO DC Motor Laptop Motor Driver L293D 9 Volt Battery Battery ...
Read more

›
I came across a bunch of stepper motors and I have since been looking for a project to do with the kids. An old Telecran (French for Etch-a-Sketch) later, we are in business ! Optional parts: - a sensor shield + 2 push buttons - a Nintendo Wii Nunchuck - a WiiChuck adapter And also: - hot glue gun Step 1: Mechanics The mechanical part has been done with some Fishertechniks parts. I had to drill into the ste ...
Read more

›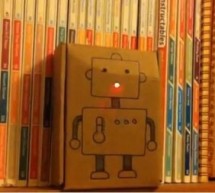 My son and myself made a little arduino robot that records temperature. He wanted me to draw a robot, I wanted to experiment with blinking LEDs relaying data so a plan was hatched. The way the LEDs work is as follows: Green = lowest temperature recorded, Yellow = highest and Red = current temperature with all readings being in °C. Step 2: Wiring Up I realise now how bad the photograph is but as everything i ...
Read more

›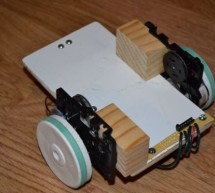 I've been wanting to get into robotics for awhile now, but it can cost at the very least 20 dollars to build a decent motor base, and I wasn't willing to invest that much money into it, so I made a robot base using parts I had lying around.  You're not likely to build this exactly as I do, so this will require some creativity on your part. Step 1: Tools/Materials [box color="#985D00" bg="#FFF8CB" font="verd ...
Read more

›
This robot head was originally built as a end of the year project for my physical computing class, but over the summer it has "learned" how to talk. The head is powered by two Freeduinos, 3 TLC5940NT chips and an Adafruit Industries Wave Shield found here: www.ladyada.net/make/waveshield/. The head is currently connected to a computer by two USB cables, one for power, one for sending it serial commands on w ...
Read more

›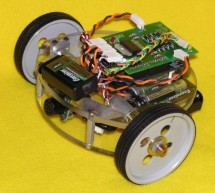 Objective: To create from scratch a working robot that is able to avoid walls and obstacles. Ever wanted to make a robot that could actually do something, but never had the time or knowledge to do it? Fear no more, this instructable is just for you! I will show you step by step how to make all the necessary parts, and programs to get your very own robot up and running. I was first inspired to build a robot ...
Read more

›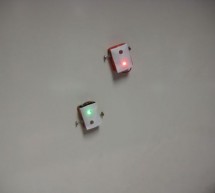 This Instructable will teach you how to create magnetic robots that traverse vertical surfaces. These robots can move on any metallic walls, including elevators, whiteboards, refrigerators or metal doors. The robots are outfitted with several light sensors, allowing them to respond to simple user interactions. My implementation supports 3 robot 'personalities', which can be changed by covering the topmost l ...
Read more

›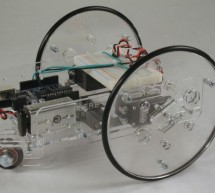 What better way to start experimenting with open source micro-controllers ( Arduino ) then by building your very own open source robot ( CC (SA -BY) )? What to do with your SERB? (here) - How to connect your SERB to the internet and drive it over a Skype video call. (here) - How to Control Your SERB Using a Wii nunchuck's accelerometers (here) - How to Add Obstacle Detecting Whiskers to Your Robot (here) - ...
Read more

›