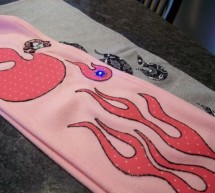 This was my first time working with an Arduino Lilypad. I have been wanting to try something that dealt with soft circuits for awhile now. This project is what I came up with. The concept is based off my friend Ethan Dicks from theFusefactory.org's emergent Sheep Sculpture project. The  Lilypad Interactive Passion Sensing Scarf works like so: Scarf number one being worn by someone walking alone will light u ...
Read more

›
Open-source hardware? Arduino(tm) is the first name to come to mind! As great as it is, sometimes we need a small microcontroller solution for a project, or a stripped-down version for cost-effectiveness. The Ardweeny is the solution. These small kits are 100% compatible with the Arduino programming environment, are very small, (and unlike the regular Arduino) they can fit on a breadboard. Oh, and they're q ...
Read more

›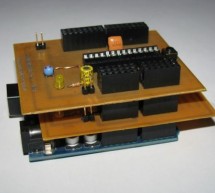 This is an addon shield to an addon shield. That's right, you have to have the Core2duino on your Arduino to be able to understand why you would want this in the first place. So once you have your Core2duino saddled up, give this one a shot (you don't technically have to have the core2duino to use this with your arduino or standalone, but only pins that are plugged in will work). It will fit on any Arduino ...
Read more

›
Updated Aug 4, 2011 A streamlined version is now described here. Beside the enclosure, the original feature of IllyClock is showing the time in colors: 3 hours before wake-up time, color changes from green to orange; 1 hour before wake-up, the time is shown in red. One can estimate how much sleep is left just by squinting at the clock. Parts you will need: - Illy coffee can (250g); chosen because it is easy ...
Read more

›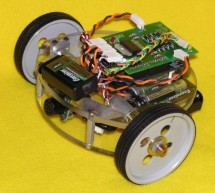 Objective: To create from scratch a working robot that is able to avoid walls and obstacles. Ever wanted to make a robot that could actually do something, but never had the time or knowledge to do it? Fear no more, this instructable is just for you! I will show you step by step how to make all the necessary parts, and programs to get your very own robot up and running. I was first inspired to build a robot ...
Read more

›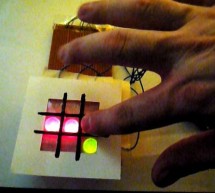 Or, an exercise in input and output multiplexing, and working with bits.  And a submission for the Arduino contest. This is an implementation of a tic tac toe game using a 3x3 array of bicoloured LEDs for a display, a simple resistive touchpad, and an Arduino to tie everything together. Parts and consumables One perf board (or strip board) Nine bicoloured LEDs, common cathode Nine identical resistors, in th ...
Read more

›
I've seen a number of tutorials about how to build the platform for a 3-axis CNC milling machine.  I have not seen anyone tackle the tricky subject of the electronics. Here now is my attempt to do so. Step 1: Parts You'll need: - an arduino. I chose duemilanova. (depends on the board you get) - 3 stepper motors.  I chose NEMA 17s . ($15/ea) - 3 EasyDrivers from Sparkfun . ($15/ea) - some Cat5 ($2?) - a 12V ...
Read more

›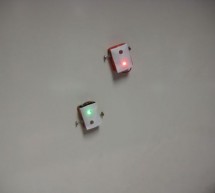 This Instructable will teach you how to create magnetic robots that traverse vertical surfaces. These robots can move on any metallic walls, including elevators, whiteboards, refrigerators or metal doors. The robots are outfitted with several light sensors, allowing them to respond to simple user interactions. My implementation supports 3 robot 'personalities', which can be changed by covering the topmost l ...
Read more

›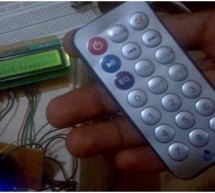 In present times there are many types of Home Automation Systems which are available in the market. Most of these are simple Home Appliances Controlling Systems like DTMF controlled Home Appliances, GSM based Home Appliances Controlling, RF based Home Appliances Controlling. Here we are going to discuss about TV or DVD Remote Control LED Home / Office Appliances Control (Home Automation System) using Arduin ...
Read more

›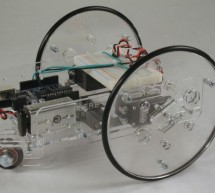 What better way to start experimenting with open source micro-controllers ( Arduino ) then by building your very own open source robot ( CC (SA -BY) )? What to do with your SERB? (here) - How to connect your SERB to the internet and drive it over a Skype video call. (here) - How to Control Your SERB Using a Wii nunchuck's accelerometers (here) - How to Add Obstacle Detecting Whiskers to Your Robot (here) - ...
Read more

›
This Instructable shows you how to build a simple, inexpensive breadboard for robotics experiments. It is a companion to Cheap, Easy Robotics for the Non-Programmer. Here we'll learn how to build a Babuino robot to use for experiments with the Babuino/Blocos software environment. Using a breadboard like this makes it easy to experiment with robotic circuits. Since no soldering is required, it's also very ea ...
Read more

›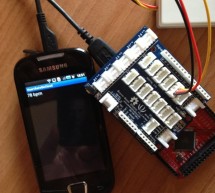 This cool (and very low price) sensor is attached on your ear and can detect your heart's pulse through transmitting infrared light and checking the absorption variation caused by the blood flow on your ear lobe. The site of the products provides also the Arduino code for detecting the beats and calculating an average heart rate (in bpm  - beats per minute). The sensor comes with a grove connector, so setti ...
Read more

›