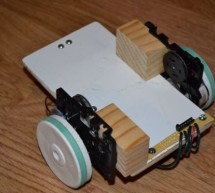 I've been wanting to get into robotics for awhile now, but it can cost at the very least 20 dollars to build a decent motor base, and I wasn't willing to invest that much money into it, so I made a robot base using parts I had lying around.  You're not likely to build this exactly as I do, so this will require some creativity on your part. Step 1: Tools/Materials [box color="#985D00" bg="#FFF8CB" font="verd ...
Read more

›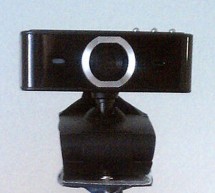 Everyone wants to keep their home secure. If zombies have swarmed your house, you want to know it's not safe to return, RIGHT? What better way to do this than to set up a surveillance system? Now it's easier than ever to have. And, you don't have to shell out hundreds of dollars to make sure the infected haven't infested your home. OK, I'll get back to reality... This instructable is good for catching thiev ...
Read more

›
I recently got my shipment of 10 buzzers I ordered about a month ago, so as soon as I got them I was eager to make something fun with them, so I looked around a bit and searched for what to do with them, and by spending some time on www.arduino,cc and posting lots of questions on the forums, I figured out what I am going to make. I decided to make an air piano which is based upon cap-sense and the arduino. ...
Read more

›
In this instructable I will detail how I went about making a quick and easy, Arduino compatible, H-bridge shield. But first, a brief intro into what got me motivated to make it. A couple of years ago, I started wanting to learn more about micro-controllers. This led me to want to make my own robot, which then led me to Arduino. Then I wanted to make something move. It was then that I learned that in order t ...
Read more

›
The idea for this project came to me on the way to the trash. I was tasked with throwing away a box that has just been emptied of its original Ferrero Rocher sweetness content by my dear wife. This was shortly after the Valentine's Day. So, I got to spend 10 seconds alone with this box and realized that it holds some promise, so it ended up on my workbench instead of the trash. Despite its festive thematic ...
Read more

›
My next door neighbors have recently been playing their music really loud so that I can hear it through the walls. I've gotten tired of having to bang on the walls each time to get them to quiet down, so I decided to automate some payback. The premise is that my device will listen for loud music playing through the wall, and when the volume breaks a pre-defined threshold and hears sustained music for 10 sec ...
Read more

›
A hideaway cat litter box is a great way to make your apartment look like a residence for adults instead of crazy cat ladies. A hidden litter box in a cabinet, under a sink, or built in to some other furniture does a lot for appearances, but what about the smell? Here's how you can exploit the power of baking soda and embedded computers to keep your apartment fresh-smelling without disturbing your cat durin ...
Read more

›
UPDATES Mar 05, 2013 Featured on WonderHowTo http://goo.gl/fpeVC Feb 14, 2013 Featured on LifeHacker  http://goo.gl/tx4QG Feb 13, 2013  I have updated the Arduino program in step 4 to support additional remote controls. Feb 13, 2013 Featured on Dangerous Prototypes http://goo.gl/DJcwe Feb 12, 2013 Featured on Semageek  http://goo.gl/EH58K Feb 12, 2013 Featured on Embedds http://goo.gl/Z3egm Feb 12, 2013 Fea ...
Read more

›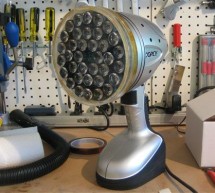 Our first open source Homeland Security non-lethal weapon project - The "THE BEDAZZLER: A Do-it-yourself Handheld LED-Incapacitator". After attending a conference where the $1 million "sea-sick flashlight" (named "THE DAZZLER") was demonstrated by the US Dept. of Homeland Security, we decided to create our own version. For under $250, you can build your own dazzler and we've released the source code, schema ...
Read more

›
This instructable shows how you can use many openly available projects together to build an interesting and complex system. It draws on several community projects including: RepRap, Arduino, Processing, Linux and, of course, Instructables! More specifically this intructable shows how to draw the path of a bouncing ball with a CNC machine. But this is primarly an example of this open source toolchain. The fi ...
Read more

›
Introduction In this project, 16 LEDs are used to represent the time in binary. The time is read from a Real Time Clock breakout board - the same one used in the Digital Clock page. The binary clock uses 4 place values for the hour (12hr format), 6 place values for the minutes, and 6 for the seconds. So the following pattern... ... makes the time, 8+2 = 10 hours, 16 + 4 + 1 = 21 minutes, 4+2+1 = 7 se ...
Read more

›
This robot head was originally built as a end of the year project for my physical computing class, but over the summer it has "learned" how to talk. The head is powered by two Freeduinos, 3 TLC5940NT chips and an Adafruit Industries Wave Shield found here: www.ladyada.net/make/waveshield/. The head is currently connected to a computer by two USB cables, one for power, one for sending it serial commands on w ...
Read more

›