My company has annual events where we all get together for fun - to blow off steam and have a little competition. In the past we have had softball and bowling competitions. This year someone had an inspiration: each department would build a putt-putt 'hole' in the officed and we would all compete to make the best hole. There were some amazing contributions. This is my contribution to the IT department's hol ...
Read more

›
Most of you have heard the expression 'Hot Air Rises'. Well, it's true. So in your typical house, it's going to be hotter near the ceiling than near the floor. How much hotter? Well, being a Lazy Old Geek, I wanted to know how much. Well, that's easy, I just point my IR thermometer (See picture) up in the corner and down at the floor. Okay, it reads 82 F at the ceiling and 75 F on the floor. All done. But w ...
Read more

›
I came across Plama2002's "Emergency Party Button" build a while back and wanted something similar for my bar. I also had an old USAF B-8 stick grip from an A-10A that I picked up in my previous life. I figured instead of just being a conversation piece, I could put it to good use as a remote control for my AV system. What I came up with is a master control box that: - Controls my SAT TV, music server and i ...
Read more

›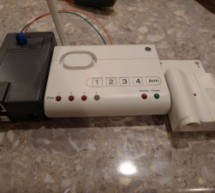 You know that feeling of driving away from your house almost getting to work and saying "Now Did close the garage door?" .  I hate that feeling and seeked out to resolve it in the smiplest/cheapest way I could.  The starting point was of course Arduino.  This project ended up being simpler than I could of imagined but it was not my best effort (as it was my first real project making something useful with th ...
Read more

›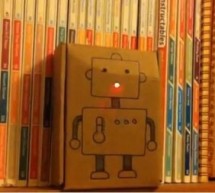 My son and myself made a little arduino robot that records temperature. He wanted me to draw a robot, I wanted to experiment with blinking LEDs relaying data so a plan was hatched. The way the LEDs work is as follows: Green = lowest temperature recorded, Yellow = highest and Red = current temperature with all readings being in °C. Step 2: Wiring Up I realise now how bad the photograph is but as everything i ...
Read more

›
Greetings, One late night of web surfing I came across some 45 Degree Extension boards. Thinking to myself "Wow!" that's cool and then I looked at the price…$27.00 before S&H. "Yikes!" I've been looking for an excuse to learn Eagle PCB layout software and this was the project I decided to cut my teeth on…"Wing Tip Extension" was born! Step 1: Layout PCB Layout, I'm sure this took longer than it should h ...
Read more

›
Wearable computing, e-textiles, soft circuits or whatever you want to call it, is a growing field of applying technology to garments or accessories like bags, shoes or backpacks.  It is a fun and creative challenge which goes beyond just adding LED lights to fabric.  For a primer, you must check out the work of Lynne Bruning. Of course, to make things light up really cool, you need some kind of microprocess ...
Read more

›
This is a very odd kind of clock, which can easily be made with simple supplies. To begin the explanation, I would like to say that I have always wanted time to be metric. 5 o'clock would be mid-day, 7:5 would be three quarters (6:00 pm), and so on. This prototype tells deci-days, centi-days, and milli-days, in that order. For those that are unfamiliar, ten deci-days are in a day, ten centi-days are in a de ...
Read more

›
This little 'Add-on' board allows you to 'Twist' an existing Arduino Shield 90 degree from its original footprint Twist Shield.brd42 KB Step 1: The Problem... Have you ever finished a project and then realized you stopped one step too soon? While plugging in various shields I have into the 'Wing Tip Extensions' I built I noticed an odd thing…display shields needed to be rotated 90 degrees to be of any real ...
Read more

›
For my first instructable, I'd like to present The Parking Spotter. This is not a new concept, I know. However, this build was done specifically to suit my needs/wants/materials already in my possession. Typically, a project begins with an idea, parts are then gathered, and the building commences. In my case I looked around at the parts and material that I had on-hand, browsed Instructables (a daily occurre ...
Read more

›
Yes, this is exactly what the title says it is. This instructable will teach you how to control any Nerf Vulcan, with your Arduino. The provided tutorial will just shoot for 2.5 seconds, stop for 2.5 seconds, and so on. It is like a "hello world" program for controlling your Nerf Vulcan. It can easily be expanded to do whatever you want, you could use a proximity sensor to make security system, you could us ...
Read more

›
I enjoy both Geocaching and electronics and have made a couple of electronic puzzle caches using an Arduino. My latest creation (with the help of a fellow cacher for the code) is using an Arduino and RFID reader to make a puzzle geocache we call RFIDuino. The GeoCacher takes RFIDuino and has to find 3 RFID tags in order to get the location of the final geocache. They are given the coordinates of the first t ...
Read more

›