As summer is coming, I bought a USB fan from HuaQiangBei, Shenzhen. However, when I focus myself on work(or game), I could hardly notice its existence. If I can teach it how to think and execute its duty without my order, that will be more practical and fun! So roll your sleeves and follow me to refit a temp-controlled fan! Step 1: The structure of USB fan is pretty simple. When you break it down(or even yo ...
Read more

›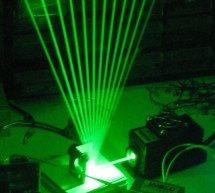 We are a generation that love sound and light – can't do without them really. Our most preferred time of day is night, or what we would call evening. We are particularly well acquainted with technology; doesn't hurt these days. Our prerequisite for everything is that it be 'cool'. Put it all together and in a stroke of brilliance, and a little help from our friend the internet, we have the ideal solution – ...
Read more

›
As a project for one of my college classes, we were asked to create something using the Arduino. After a few different ideas, I settled on putting an Arduino noise machine into a suit jacket. It uses parts of the jacket to make function, so that it appears that the jacket is making sounds for no reason. The code that I used was from blinkyblinky, and can be found here. Using his project as the basis, its a ...
Read more

›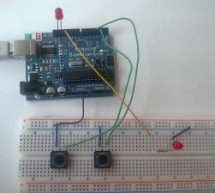 This example demonstrates the use of INPUT_PULLUP with pinMode(). It monitors the state of a switch by establishingserial communication between your Arduino and your computer over USB. Additionally, when the input is HIGH, the onboard LED attached to pin 13 will turn on; when LOW, the LED will turn off. Circuit image developed using Fritzing. For more circuit examples, see the Fritzing project page Connect ...
Read more

›
This is a self sufficient Arduino board, which is powered by harnessing solar power and using a 9V rechargeable battery. It is perfect for anyone who is interested in doing Arduino projects that do not require a computer or any power supply. You can take this to the most remote places for any project. Step 1: Setting up the Arduino board This is probably the simplest step (please use the schematic as refere ...
Read more

›
These slippers have 4 analog pressure sensors embedded. They can be used to feed Up, Down, Left and Right values into your computer replacing your mouse, joystick... Visit the JoySlippers website >> http://www.joyslippers.plusea.at/ This Instructable improves upon the previous version http://www.instructables.com/id/Joy-Slippers/. It will show you how to make a pair of Joy Slippers, connect them to an ...
Read more

›
This instructable will be about using arduino to control the revell vexplorer. Later you can add as many sensors you want. If you don't have most of the parts already this will cost you about $200 dollars. Most of the electronic bits you can find at radioshack and vexplorer at amazon, also arduino at the maker store. Check out my new project on sending a balloon into space!! http://www.instructables.com/id/ ...
Read more

›
This is a set of musical bells which are driven by solenoids and controlled by an Arduino microcontroller. There are 8 bells covering one octave. The bells are controllable from a PC, or the tower can stand alone and play pre-programmed melodies. Check out the final page for video of it in action. Step 1: Parts The following parts were used: 1 set of chromatic handbells. I got these from my local Aldi for $ ...
Read more

›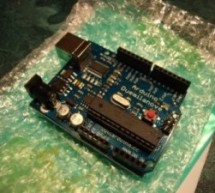 An all-in-one tutorial to getting started with the Arduino open-source electronics prototyping platform. This guide is meant for the beginner but should be also be useful to you if you already tinker with electronics but want to get started with the Arduino. I'll cover: - breadboarding LED outputs from the Arduino - creating and reading digital inputs to the Arduino - how to program the Arduino to take the ...
Read more

›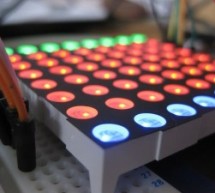 For my 30th Birthday I decided to have a D-Themed costume party, my girlfriend Kylie and I decided that we would go as Daft Punk. The costumes were quite involved to make, but we had lots of fun and they looked great! We used a lot of resources from the internet, including a great article on how to stitch EL wire into clothes that I found here: http://www.instructables.com/id/how-to-add-EL-wire-to-a-coat-or ...
Read more

›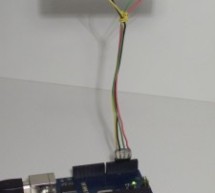 This is my instructable on charlieplexing a LED row/string with the arduino. I noticed that there weren't many instructables on charlieplexing using an arduino, so i made this. I tried to keep the project simple, but that didn't work very well. The soldering is complex, I wouldn't recommend this as a first time soldering project. Here's some background on charlieplexing: en.wikipedia.org/wiki/Charlieplexing ...
Read more

›
This instructable will show you how to build an Arduino shield that adds another Atmega168/328 on top of your Arduino, giving you an extra complete set of I/O pins to use. That's 12 PWM pins, 12 Analog pins, 4 external interrupts,  or 40 Digital pins total. ----------------------------------- *UPDATE* 3-11-10 I re-did the Eagle file and scrapped the R/C header and both of the 7805 voltage regulators. The ne ...
Read more

›