A while back the instructables robot made a post on Facebook about some guys who played pong on an Arduino (http://wayneandlayne.com/projects/video-game-shield/games/#pong) but after looking around, i saw that everyone who did this was only worried about making it work. and often resulted as a very hard to use system with only potentiometers to use as controllers. so in my attempt at this, i decided that it ...
Read more

›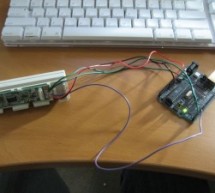 This instructable shows how to use some freely available code, an arduino, and a standard magnetic stripe reader to scan and display the data stored on magnetic stripe cards such as credit cards, student IDs, etc. I was inspired to post this after reading the intro to magnetic stripe reading and Stripe Snoop that is found in MAKE magazine Volume 1. That tutorial details how to interface a stripe reader to a ...
Read more

›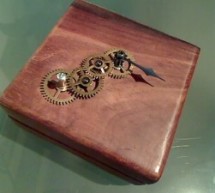 Having built a few puzzle box games recently, and having some components left over I thought I would build a functional Steampunk Compass. Based around a Arduino Duemilanove this is a really quick and simple build. Taking reading from a digital compass the Arduino controls a servo to position a clock hand. Step 2: Connect the electrics. Couldnt be simpler. The digital compass connects; SCL to Arduino Analog ...
Read more

›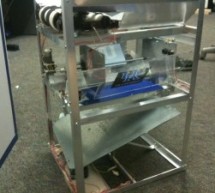 This Arduino project was part of an Association of Mechanical Engineers (ASME) contest to create an Autonomous Material Sorter. The sorter was to sort four glass bottles, four plastic bottles, four Tin cans, and four Aluminum cans. There were requirements such as size of the bottles and size of the machine. The machine had to be able to sort the bottles and cans automatically after being started and had to ...
Read more

›
This semester at college, I am in a class called Computing and Craft which is about incorporating circuitry and micro-controllers and craft to bring our projects to the next level. For our first big project, I decided to make a raincoat the reacted to light and water.  Being from California and going to school in Massachusetts has been a big transition and the sudden downpours can catch you unaware.  This r ...
Read more

›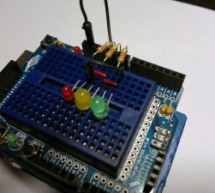 Have you ever made a city out of Legos? I know i have built many of them but they all missed something... Traffic lights! So i decided to make my very own traffic light setup from my arduino board. Step 2: Get the components I assume you already have an adruino board, and maybe also a Protoshield. You'll need the LED's and resistors the 220 Ohm resistors are color coded so: Red, Red, Brown Step 3: Hook up t ...
Read more

›
I have a late 80's VW and the gauge cluster has 5 dummy LED locations underneath the other warning lights.  Well I was tired of the m not doing anything, so I decided to do something about it.  I came up with the idea to put a lateral gravitational force mater (G Meter)  in there place. Step 1: Gather up the needed supplies All parts needed if you wish to make it standalone: 1 -Circuit Board 1- ATmega168/32 ...
Read more

›
As a follow up to the Arduino Audio Input tutorial that I posted last week, I wrote a sketch which analyzes a signal coming into the Arduino's analog input and determines the frequency.  The code uses a sampling rate of 38.5kHz and is generalized for arbitrary waveshapes.  I've also turned the LED attached to pin 13 into a clipping indicator, so you know if you need to adjust your signal's amplitude as you ...
Read more

›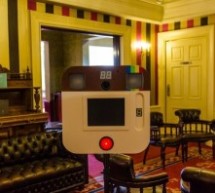 I decided to build a simple photo-booth as a fun addition for events, this goes through the basic steps of how i went from a few pieces of wood to a fully functional booth. I have also included a photo of what the images look like! Step 1: Cutting Wood Square sheet of MDF, 600mm x 600mm with a Red Dome Push Button recessed at the bottom. Step 2: Access Holes Holes were then cut out for camera lens and tv mo ...
Read more

›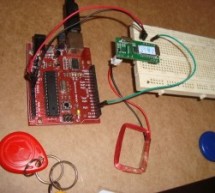 On this instructable I will try to show how to interface a RFID sensor with the Arduino. I am using the RFID sensor from seeedstudio the serial version of it. There are a few parts you will gonna need. I also bought some RFID keys. UPDATE: Now it works with IDE 021 Step 2: Plugging all together Connect the antenna on the appropriate pins like the first photo. Plug the RFID sensor to the protoboard like the ...
Read more

›
I've always been interested in monitoring my local weather, and noticed the difference between what weather.com and accuweather.com think my local weather is, and what I see out the window. I also wanted better control over my heating and A/C system. As a computer and electronics nut, I've been playing with the Arduino Microcontroller, and decided to to meld my interests. So here goes the documentation on m ...
Read more

›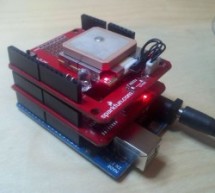 Do you want to log some GPS data onto an SD card using your Arduino? Do you already own a Sparkfun microSD shield and GPS module? Did you try the Adafruit Sheild (although it is awesome and cheap) but it stole all of your pins? Want it to output into a nice, Google Earth friendly format? Well read on... Step 2: Hook It All Up It's a simple as, stacking the sheilds. I put the GPS Shield on top to maximize re ...
Read more

›