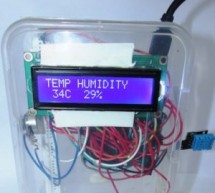 How cool would it be to have your own Arduino weather station right in your backyard? Sounds fun? Geeky? Having your own weather station means that you don't need any more inaccurate results from the weather channel! You can even log the data and play around with it. Set mood lighting according to the weather? Why not? This tutorial will get you kick-started with your own DIY Weather Box to chart out local ...
Read more

›
The Christmas light show with Arduino is a project that controls a number of lights according to a song in sync with the music. It can be used to control stage lights and fog machines (that don't have DMX) with a computer to achieve wonderful synchronization for performances on stage, which is not always possible with manual lighting control consoles. During last year's holidays, I was watching videos of Ch ...
Read more

›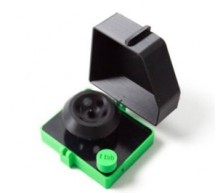 Biotechnology is powerful, but only for those with the tools to experiment with and utilize it. The DIYbio movement seeks to put the tools and techniques used in well-funded laboratories around the world into the hands of ordinary people who have an interest but not the means to investigate biology. One of these tools is the centrifuge. Centrifuges come in many shapes and sizes to fit a wide variety of labo ...
Read more

›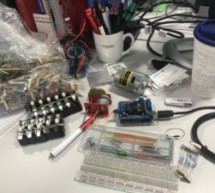 I've been meaning to put some content on here for a while and recently I got around to getting an Uno and motor shield. Given I also have access to a 3d printer and have a shedload of microswitches, semis and other goodies knocking around - Robocar is an obvious choice! I've had a few Arduino's in the past but have always used them as an ISP to write to AVR instead of just embracing the Arduino eco-system. ...
Read more

›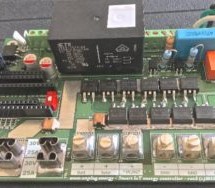 A solar boiler is great because it gives you hot water using free-sun-energy, but what if there is not enough sun or someone already used all the hot water ? This project helps you take the right decision. It warns you when you run out of hot water and allows you to turn on the electric heating. It also let you know when you can take a bath or shower ! Goals : Alert me when the Hot Water goes below a certai ...
Read more

›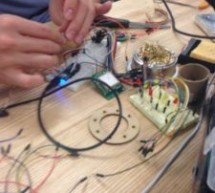 Description Mystick is an innovative hiking stick that promote exploration and allows you to share your hiking experiences and special findings with other users. When picked up by a user, the Mystick already has a predetermined location to which it directs using a compass and GPS to direct LED lights in the direction of the location. With the simple push of a button, the users progress to the chosen locatio ...
Read more

›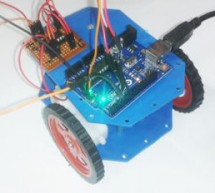 After designing this line follower robot using arduino uno, I have developed this computer controlled robot. It can be controlled via the computer and we can use specific keyboard keys to move it. It runs over serial communication which we have already discussed in our previous project - PC Controlled Home Automation. Components Required Arduino UNO DC Motor Laptop Motor Driver L293D 9 Volt Battery Battery ...
Read more

›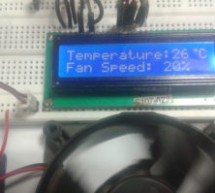 In this arduino based project, we are going to control DC fan speed according to the room temperature and show these parameter changes on a 16x2 LCD display. It is accomplished by the data communications between Arduino, LCD, DHT11 sensor Module and DC fan that is controlled by using PWM. PWM is a technique by using which we can control voltage. Circuit Components Arduino UNO DHT11 sensor DC Fan 2n2222 tran ...
Read more

›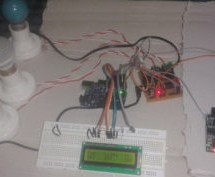 Mobile phone is a revolutionary invention of the century. It was primarily designed for making and receiving calls & text messages, but it has become the whole world after the Smart phone comes into the picture. In this project we are building a home automation system, where one can control the home appliances, using the simple GSM based phone, just by sending SMS through his phone. In this project, no ...
Read more

›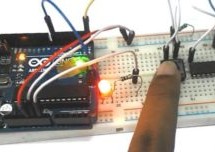 Here we are going to establish a communication between an ATmega8 microcontroller and Arduino Uno. The communication established here is UART (Universal Asynchronous Receiver Transmitter) type. It's serial communication. By this serial communication data can be shared between two controllers, which is a required in various embedded system applications. In embedded systems we must have basic knowledge about ...
Read more

›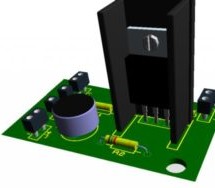 Introduction This is an Arduino controlled light sensing switching unit. Its main use is to control solar lights to turn on when it is dark outside, but it can work in many more applications. This guide will walk you through every aspect of the building process. Prior knowledge of the Arduino unit is not necessary since the code and schematic have been supplied for you. This project would be fairly complex ...
Read more

›
Smoke Detectors are very useful in detecting smoke or fire in buildings, and so are the important safety parameters. In this DIY session, we are going to build a Smoke Detector Circuit which not only sense the smoke in the air but also reads and displays the level of Smoke in the Air in PPM (parts per million). This circuit triggers the Buzzer when Smoke level becomes higher than 1000 ppm, this threshold va ...
Read more

›