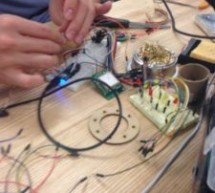 Description Mystick is an innovative hiking stick that promote exploration and allows you to share your hiking experiences and special findings with other users. When picked up by a user, the Mystick already has a predetermined location to which it directs using a compass and GPS to direct LED lights in the direction of the location. With the simple push of a button, the users progress to the chosen locatio ...
Read more

›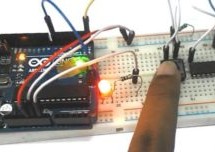 Here we are going to establish a communication between an ATmega8 microcontroller and Arduino Uno. The communication established here is UART (Universal Asynchronous Receiver Transmitter) type. It's serial communication. By this serial communication data can be shared between two controllers, which is a required in various embedded system applications. In embedded systems we must have basic knowledge about ...
Read more

›
So about a year ago I decided that I wanted to get into AVR microcontrollers. After ordering an AVR pocket programmer from Sparkfun , I soon realized that it was too delicate to be sitting on a workbench full of wire clippings. I knew I needed a small enclosure to put it in, but couldn't find anything I really liked. My final decision was to make my own. This instructable will explain the steps necessary to ...
Read more

›
/* Read Quadrature Encoder  * Connect Encoder to Pins encoder0PinA, encoder0PinB, and +5V.  * http://playground.arduino.cc/Main/RotaryEncoders  * Sketch by max wolf / www.meso.net  * v. 0.1 - very basic functions - mw 20061220  * Sketch updated by Brooke Hedrick / www.millamilla.com  * v. 0.2 - Added the "S" pin for encoders with push-down support - bth 09292013  *        - Put a limit of 255 and 0 in place ...
Read more

›
After buying a Nanode (an Arduino-compatible board with ethernet built-in) last weekend, we've been trying to work it out by making a couple of simple examples, the 'Binary Dice' is the first one with input and outputs. A note, this code example is based on the one from the book Arduino: A Quick-Start Guide by Maik Schmidt. You'll need (other than the Nanode/Arduino board): 3 LEDs (ours were rated for 0.8mA ...
Read more

›
Quickly testing a GPIO pin To set pin GPIO_PH1 as an output: sudo su (Enter your user password. Defaults to "ubuntu") # See which pins are currently configured as GPIO, and what their state is. cat /sys/kernel/debug/gpio # Validate that the entry for the Tegra GPIO controller has a base value of 0. If not, add on whatever the base value is to the "57" in the commands below. echo 57 > /sys/class/gpio/expo ...
Read more

›
In this instructible I will show you how I make my servo stand.  This stand is useful if you want to test a new way to control a servo but dont want to use a servo on your robot or something.  make Step 1: Cut the wood cut 2 5inch pieces of 2x4 then measure the short side of the servo and add 2inches then cut 2 pieces of paint stirrer to this measurement Step 2: Put it togather First -skrew the servo on to ...
Read more

›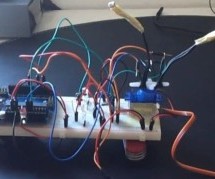 First of all, I'm from Switzerland so please excuse my english mistakes. Here is one of my first little project I did with my Arduino Uno. It's is just a little light seeker. The servo turns towards the light. Step 1: The wiring Here is the exact wiring I used. The only difference is that I fixed the photoresistors on the servo (but I couldn't do it with the program) Also I used a 9V battery in the video, i ...
Read more

›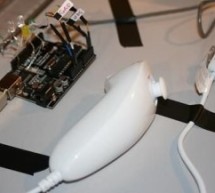 Background: I made a self-balancing electric skateboard which is steered using a Wii Nunchuck by either using the thumb joystick on the top or by tilting it left or right, depending on which of the two buttons on the end are being pressed. A simplified self balancing board is described in the instructable here: www.instructables.com/id/Easy-build-self-balancing-skateboardrobotsegway-/ However people are ask ...
Read more

›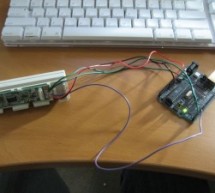 This instructable shows how to use some freely available code, an arduino, and a standard magnetic stripe reader to scan and display the data stored on magnetic stripe cards such as credit cards, student IDs, etc. I was inspired to post this after reading the intro to magnetic stripe reading and Stripe Snoop that is found in MAKE magazine Volume 1. That tutorial details how to interface a stripe reader to a ...
Read more

›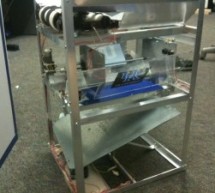 This Arduino project was part of an Association of Mechanical Engineers (ASME) contest to create an Autonomous Material Sorter. The sorter was to sort four glass bottles, four plastic bottles, four Tin cans, and four Aluminum cans. There were requirements such as size of the bottles and size of the machine. The machine had to be able to sort the bottles and cans automatically after being started and had to ...
Read more

›
**** ENTERED IN THE HURRICANE LASERS CONTEST**** What would I do with a Laser Cutter? Build Simple Robotic Kits to teach people a Hobby that I Love.Ever wanted to make some money from your projects? This Instrutable will show you how to Simply interface a coin selector with your Adruino. And also how to then connect that to your Visual C# Project. Then it's all up to you and that great idea you have, if it' ...
Read more

›