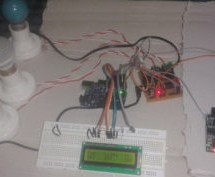 Mobile phone is a revolutionary invention of the century. It was primarily designed for making and receiving calls & text messages, but it has become the whole world after the Smart phone comes into the picture. In this project we are building a home automation system, where one can control the home appliances, using the simple GSM based phone, just by sending SMS through his phone. In this project, no ...
Read more

›
Thanks to everyone who supported this project and voted for it in the Arduino Challenge! I was awarded second prize and hope to participate in more Arduino contests in the near future. This tutorial will explain a simple way to make a password protected bluetooth door lock using your Arduino, which can be unlocked by sending a four digit pin from your Android phone!  The hardware setup is quite simple,  and ...
Read more

›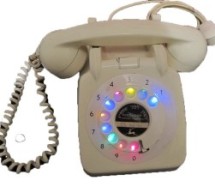 Introduction The Rotary Emotiphone is a vintage rotary phone that tweets mood emoticons. It has a predefined list of 10 emoticons, each assigned to a digit, so that when you are happy / sad / drunk / etc., you pick up the handset and dial a mood. Could've gone for more complex messages using 2-digit code convention, but eventually decided to keep it simple. The idea was conceived while I was preparing portf ...
Read more

›
What can you make with fluorescent acrylic as the inspiration?  We chose to make a glow-in-the-dark baby mobile, with an accompanying toy.  This project was completed as a part of the Computing and Craft class at Olin College of Engineering. Materials: - Craft Materials: - Fluorescent acrylic (1 square foot of each of the following colors: pink, orange, yellow, green*) - Wooden dowels (8 feet of each of 1/4 ...
Read more

›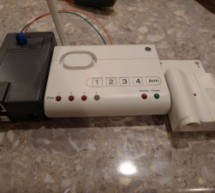 You know that feeling of driving away from your house almost getting to work and saying "Now Did close the garage door?" .  I hate that feeling and seeked out to resolve it in the smiplest/cheapest way I could.  The starting point was of course Arduino.  This project ended up being simpler than I could of imagined but it was not my best effort (as it was my first real project making something useful with th ...
Read more

›
My next door neighbors have recently been playing their music really loud so that I can hear it through the walls. I've gotten tired of having to bang on the walls each time to get them to quiet down, so I decided to automate some payback. The premise is that my device will listen for loud music playing through the wall, and when the volume breaks a pre-defined threshold and hears sustained music for 10 sec ...
Read more

›
UPDATES Mar 05, 2013 Featured on WonderHowTo http://goo.gl/fpeVC Feb 14, 2013 Featured on LifeHacker  http://goo.gl/tx4QG Feb 13, 2013  I have updated the Arduino program in step 4 to support additional remote controls. Feb 13, 2013 Featured on Dangerous Prototypes http://goo.gl/DJcwe Feb 12, 2013 Featured on Semageek  http://goo.gl/EH58K Feb 12, 2013 Featured on Embedds http://goo.gl/Z3egm Feb 12, 2013 Fea ...
Read more

›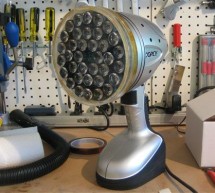 Our first open source Homeland Security non-lethal weapon project - The "THE BEDAZZLER: A Do-it-yourself Handheld LED-Incapacitator". After attending a conference where the $1 million "sea-sick flashlight" (named "THE DAZZLER") was demonstrated by the US Dept. of Homeland Security, we decided to create our own version. For under $250, you can build your own dazzler and we've released the source code, schema ...
Read more

›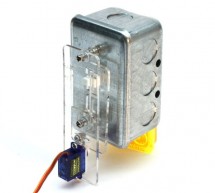 This Instructable is all about one of life's simple actions, flipping a light switch on and off. At oomlout we do it many times a day, so many in fact it came to a point where we asked ourselves "Can't we get an Arduino to do this?". Of course we can, what follows is how we went about doing it. With the help of some acrylic, nuts and bolts and a small hobby servo we have made a great little switcher (we're ...
Read more

›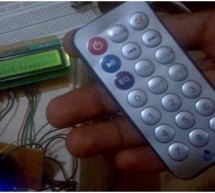 In present times there are many types of Home Automation Systems which are available in the market. Most of these are simple Home Appliances Controlling Systems like DTMF controlled Home Appliances, GSM based Home Appliances Controlling, RF based Home Appliances Controlling. Here we are going to discuss about TV or DVD Remote Control LED Home / Office Appliances Control (Home Automation System) using Arduin ...
Read more

›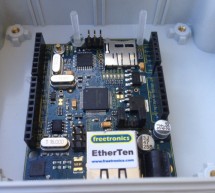 We moved house recently and I was obviously very keen to continue the home automation routine. As described in Adventures with an Arduino – Part 1: The Business Problem, I created an Arduino based garage door interface to integrate with a BOSS BOL6 garage door controller. The new house however uses a Gliderol GTS controller – and this one has up, down and stop buttons. I created an updated circuit with thre ...
Read more

›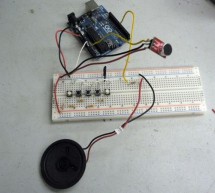 I wanted to create an Arduino instrument that was easy to play, but would sound better with practice. This "wind" instrument combines the Sparkfun Electret Microphone breakout board with the Tone library and 5 buttons on one analog pin. The musician must make a sound or blow into the microphone in order to enable the buttons. The buttons use the input from the microphone to determine what frequency to play. ...
Read more

›