There are other Instructables about building LED cubes, this one is different for several reasons: 1. It's built with a low number of off-the-shelf components and hooks up directly to the Arduino. 2. A clear, easy to reproduce circuit diagram is provided with plenty of photos. 3. A unique approach is used for the software which makes programming the cube easier and more expressive. Parts needed: -   1 Perfb ...
Read more

›
This instructable is part of the "Brickduino" series. [Brickduino 1. LED] - I expect that you did the Brickduino LED before you start with this instructable - Mainly this instructable is the same as the Brickduino LED! So if you want to skip all the steps that are the same than jump directly to step 6! To light more than one "Brickduino LED", I can simply stack them together. Than they are connected seriall ...
Read more

›
I know LEGO has the Mindstorms-set that probably is great, but wouldn't it be even better (and cheaper) to hack your regular bricks into your own micro controller controlled LEGO? Well I think so! I had this idea for a long time, but to many other projects stood in the way until Tristram posted this instructable: DIY-LEGO We tried to work together on this project, but it seemed impossible to synchronize our ...
Read more

›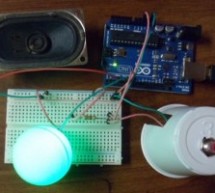 This is one of the first projects I have made with Arduino. It's a little siren with a LED that fades and blinks on and off. It demonstrates basic use of LEDs and speakers. Also check out this article: 8-Pin Programming Shield Constructive criticism is appreciated! Let's get started! Step 2: Solder jumper wires to the button and speaker Fire up your soldering iron and attach wires to each of leads on ...
Read more

›
This Instructable will walk you through my process of making a Slot Machine costume with addressable leds controlled with an arduino! Step 2: Lets Get started Picture set up: I found my slot picture online that the best graphic that when enlarged would stay nice and clear. Be sure to follow the directions on the iron on transfer paper when printing and transferring. Print the picture to full page 8.5 ...
Read more

›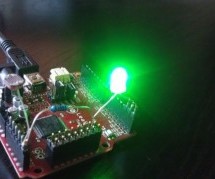 So, instead of buying a nightlight for my kid's room, I decided I could do a much better job of it. This nightlight cycles through 1500 colors over 7 mins and turns on when it is dark and turns off when it is light. It is also small enough into small objects to add effect. Step 1: Setup Arduino First create a voltage divider with the photoresistor and the 10k resistor. You can choose any ADC pin, I used 20. ...
Read more

›
I've been encountering lots or Arduino projects but generally most are on intermediate and advanced level and only a few basic instructions on how to start with Arduino. This project I made were actually inspired by this example on the Arduino page, but a much in depth step by step instructions. Assuming that you already have the basic idea on the parts and pin assignments of Arduino, you can now skip readi ...
Read more

›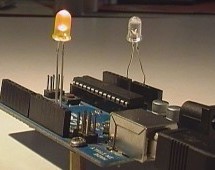 I was recently reserching on LEDs and I stumbled upon this page as I read it I found that LEDs are not just used to emit light but the also have the ability to sense light.At first using LED as light sensor sounds complicated but it quiet quickly becomes clear. This is a fun project in which we will be experimenting with LEDs requires minimal parts. This instructable will explain you how to use a LED as sen ...
Read more

›
This instructable shows you how to build a Web-enabled tri-color LED based on an Arduino and the WIZnet Ethernet shield, controllable from any Web browser . Check the live demo at http://try.yaler.net/~arduino/led Because the LED is exposed through a simple RESTful web service running on the Arduino color changes can also be triggered by Pachube or other platforms offering Web hooks. Welcome to the Web of T ...
Read more

›
This is a pretty simple game:  The Arduino shows a number in binary on the green LEDs.  You then guess whether your green number is bigger than the computer's number.  The Arduino shows its number on the red LEDs.  If you were right, you will see a green flashing pattern.  If you are wrong, you'll see a red flashing pattern. I designed this project as a workshop for people in a design competition I've been ...
Read more

›
This 3X3X3 ft. LED PVC cube is the ultimate in mood light fun!   An LED (light emitting diode) will burn longer than traditional bulbs so that you can enjoy your giant light for a LONG LONG time. Build it and see! Step 1: WARNING!!! THIS PROJECT WILL COST ABOUT $150 Also.... make sure that your dimensions are planned ahead so that you can fit it through your door after you build it!  (Uh... not that it's fr ...
Read more

›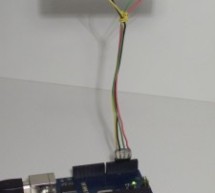 This is my instructable on charlieplexing a LED row/string with the arduino. I noticed that there weren't many instructables on charlieplexing using an arduino, so i made this. I tried to keep the project simple, but that didn't work very well. The soldering is complex, I wouldn't recommend this as a first time soldering project. Here's some background on charlieplexing: en.wikipedia.org/wiki/Charlieplexing ...
Read more

›